Consider Augustine's Farm on King Street as a destination for your holiday fixings! Everything still looks like summer at the farm stand, and everything is very fresh.
"We have just-cut spinach, good tomatoes, delicious apple cider, honey, fresh eggs, and much more," Kathy said on Sunday, adding that customers care that there are no pesticides used in the production of any of the produce at the arm stand.
"For Thanksgiving we'll have mixed nuts, dates and dried Kadota figs," she continued.
The farm stand features a wide variety of vegetables and fruits for Thanksgiving, and it's nice to support a local mom and pop operation.
There are several varieties of apples, multiple types of squash, and some unique fruits, including figs.
Augustine's also sells fresh eggs from Kathy's flock, honey from her own bee hives, jams, jellies, pickled beets and much more.
The farm stand will be open through Thanksgiving and into the Christmas season (up to December 20) with Balsam wreathes that Kathy makes and decorates with dehydrated fruit including apples, oranges and pears and finishes with a red velvet ribbon.
"There's no plastic. No junk," Kathy said. "We'll also have rings of holly wreathes and Christmas trees."
And of course, Augustine's is known for selling fresh cut Christmas Trees that hold their needles much longer than trees from the big box stores. So plan a visit for your Thanksgiving table and return for your Christmas tree.
Augustine's Farm is located at 1332 King Street in Greenwich.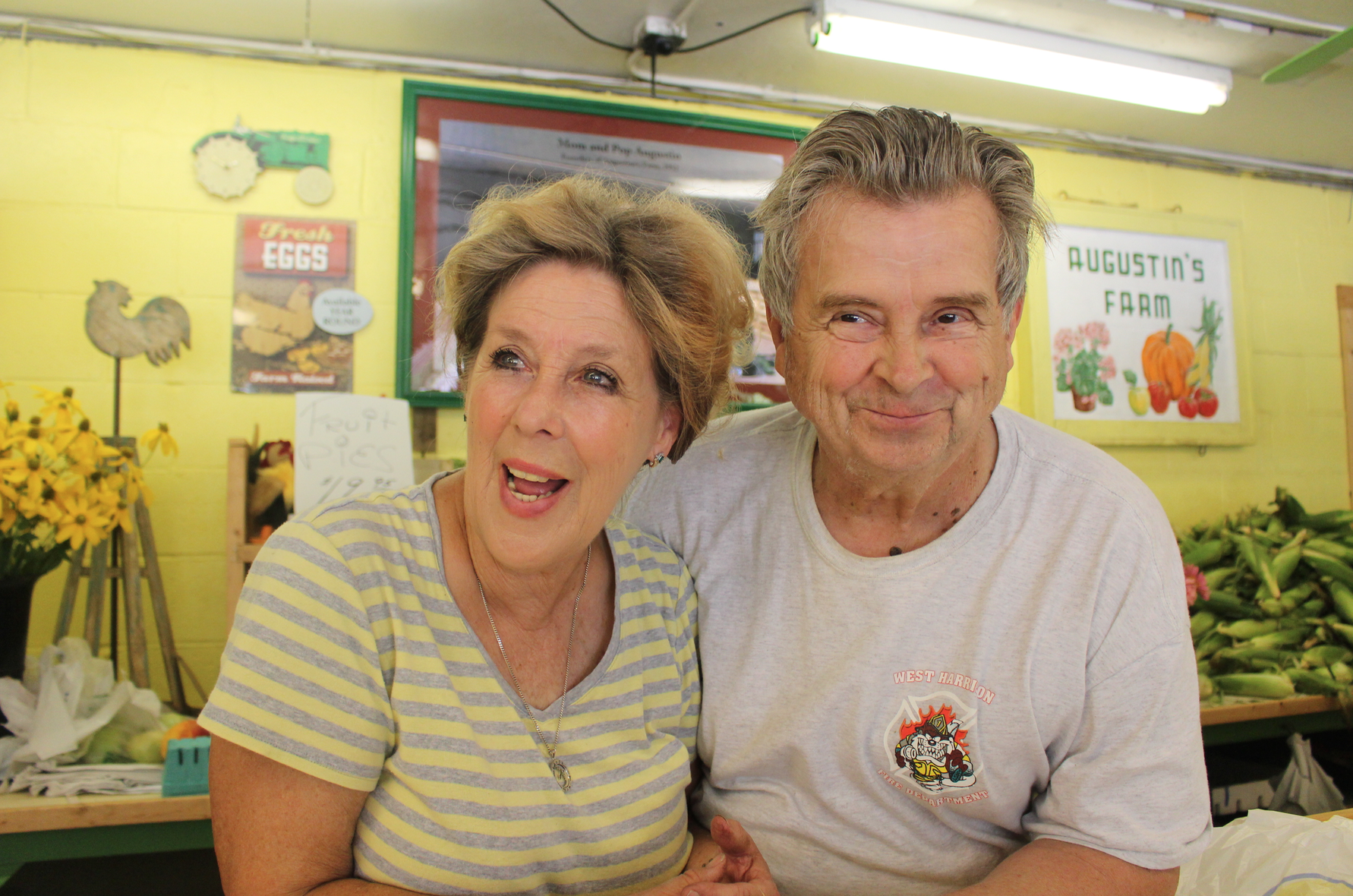 Some of Kathy's Favorite Recipes for your Thanksgiving Dinner
Stuffed Acorn Squash
Ingredients:
1 large Acorn Squash, halved and seeded
Olive oil to taste
Salt and freshly ground black pepper
1 Pound ground sausage
1 Apple, cored and diced.
Preheat oven to 400 degrees. Line a baking sheet with aluminum foil. Place squash, cut side up, on prepared baking sheet. Drizzle with olive oil. Sprinkle with salt and pepper. Bake for 30-45 minutes until flesh is tender.
In a skillet over medium heat, brown the sausage. When cooked thoroughly, add apples and stir until fruit is softened, season with salt and pepper.
Stuff cooked squash cavity with sausage mixture. Bake for 10-15 minutes more…..and cool slightly before serving.
"I can tell you, there will be smiles all around the table," Kathy said.
---
Zucchini Tater Tots
Ingredients:
3 medium zucchini, grated (about 5 c.)
2 large eggs, lightly beaten
1/2 c. shredded cheddar
1/2 c. grated Parmesan
1 tsp. dried oregano
1/4 tsp. garlic powder
Kosher salt
Freshly ground black pepper
Ketchup, for serving
Preheat oven to 400° and grease a baking sheet with cooking spray. Place zucchini in a kitchen towel and squeeze all excess liquid out.
In a large bowl mix together zucchini, egg, cheddar, Parmesan, oregano, garlic powder, salt, and pepper. Spoon about 1 tablespoon of mixture and roll it into a tater-tot shape with your hands.
Place on the baking sheet and bake for 15-20 minutes, or until golden. Serve with ketchup.
---
Green Bean Casserole
15 ounce cut green beans, if canned drained
little less than 1 cup milk
10 ounce can condensed cream of mushroom
soup
3 ounce French fried onions
salt and pepper to taste
Preheat oven to 350 degrees F.
In a medium casserole dish mix green beans, milk, cream of mushroom soup, and 1/2 of the can of french onions.
Bake for 25 minutes in the preheated oven. Sprinkle the other half can of french onions over the top of the casserole, and let it sit in the oven for 5 more minutes.Season with salt and pepper. Serves about 6 people.
Augustine's Farm is located at 1332 King Street in Greenwich.