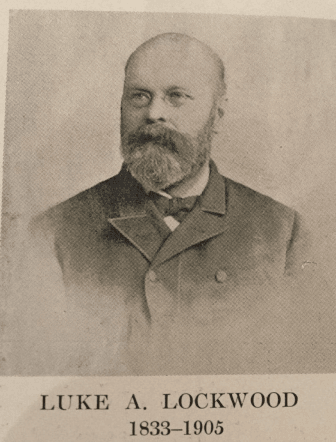 This day 113 years ago suddenly died an eminent man, deeply respected by the townsmen of Greenwich, citizens of this state, and even King Edward VII of Great Britain and Northern Ireland and Emperor of India.
His name was Luke A. Lockwood and he was born December 1, 1833 in his family's ancient homestead on what is now Lockwood Road in Riverside.
He was born unto Frederick Lockwood and Mary Ann Jessup, and grandson of Frederick Lockwood, Sr. and Deborah Reynolds. Like many of the children of Riverside and parts adjacent his early education was in the public schools. His close friends were Daniel Merritt Mead and John N. Lewis who eventually became lawyers. After public school he enrolled at Greenwich Academy (well before the days it was an all-girls school) which prepared him for college. Philander Button, A Yale graduate, was principal of the Academy in those days; and all throughout the 1840's he and his friends were active orators in the heated political campaigns of that decade. Luke Lockwood graduated from Trinity College in 1855. Passed the Bar in 1856 thereafter established his prosperous law practice.
Luke A. Lockwood was a devout Christian man who was very active in the Episcopal Church, regularly attending the conventions of his diocese. Like many of his friends, he became a member of Christ Church on Putnam Hill and in 1875 was the leading energy behind starting a new Episcopal mission in his native neighborhood of Riverside, which eventually became St. Paul's parish on Riverside Avenue. He served many years there as a lay reader until the parish found a Rector and he was St. Paul's Senior Warden until his untimely death.
The other mission he helped establish was an institution that also used an altar, but was not an Episcopal Church. He was the greatest proponent for chartering a Masonic lodge in Greenwich and he and his close friends Daniel Merritt Mead, John N. Lewis, along with Lewis Howe, Francis Dauchy, Joseph Horne, Isaac Joseph Lockwood, William White, Edward B. Hewes, Daniel Lyon, William L. Lyon, Lewis A. Reed, Bartow F. White, Samuel Close, Titus Mead, Nehemiah Peck, E. Keeler, Frederick Lockwood, Charles Wilson, Benjamin Husted, Isaac J. Lockwood and Denom Palmer established Acacia Lodge No. 85 of Ancient, Free & Accepted Masons in 1857 in the attic of the old Cos Cob school house that once stood near Cross Street off East Putnam Avenue.
Since 1825, Luke's father along with several dozens of Freemasons in town were attempting to break away from Union Lodge No. 5 which had original jurisdiction over Horseneck, Stamford (including what is today Darien and parts of New Canaan), as well as Bedford and Rye, New York. They were unsuccessful however due to the Morgan Affair crisis that was spreading across the nation. It was thirty years later that Luke A. Lockwood successfully petitioned the Grand Lodge of Connecticut to be granted a Masonic charter for the Town of Greenwich.
He served as the lodge's first Worshipful Master for ten years. He was so well respected both in his profession and within the institution of Freemasonry that on May 9, 1872, Luke A. Lockwood was elected Grand Master of the Grand Lodge of Connecticut from the floor, a very rare occurrence, and the only other instance was in 1816 when His Excellency, Oliver Wolcott, who, the same year, had been elected Governor, was elected Grand Master without having served in any other station. Luke also served as Chairman of the Committee on Jurisprudence and it was from his legal mind that he single handedly wrote "Masonic Law and Practice" which is still in use to this day. Acacia Lodge in Greenwich still has the enormous citation of gratitude from the Grand Lodge for these labors, which is framed in an ornately carved frame depicting many of the symbols of the Craft.
It was during his frequent travels to and from England for both work and for masonic purposes, he met and became closely acquainted with the Grand
Master of Masons of the United Grand Lodge of England, the Prince of Wales, His Royal Highness, Albert Edward Saxe-Coburg and Gotha, son of Prince Albert and Queen Victoria. In 1895, as a result of their close association Prince Albert made Luke A. Lockwood the sole representative of English Masons in all of North America. The citation with the eventual King Edward VII's signature on it, is still in possession of the lodge today.
On November 19, 1905 Luke A. Lockwood, after he seemed to be in good and perfect health, suddenly departed this life, to the great lament of his family and friends. In the minute books of Acacia Lodge No. 85 is left the following
resolution on the departing of Luke A. Lockwood:
"Whereas Most Worshipful Brother Luke A. Lockwood, a charter member of this lodge, the first and for many years its Worshipful Master and actively connected with its welfare for nearly fifty years, was on November 20, 1905 called from labor of our terrestrial, to the refreshment of the Celestial Lodge above whereas he was greatly endeared to us by reason of his profound learning and his most genial and affectionate nature. Therefore, Resolved, that in his death we have lost a brother whose example, wise counsels and inspiring friendship have rendered his memory sacred and enduring and that these resolutions be spread upon the record as a memorial of him whom we have known only to love and whose high character and zeal for this order will be revered by the generations to come. Life's Labor Done. Serenely to his final rest he passed; while the memory of his virtues yet linger, like sunlight hues when that bright orb has set."
Brother Luke A. Lockwood is now buried next to his beloved wife at the Saint Andrew's church yard at Stamford, Connecticut.