Fred Stahl said they come from both sides of the stream. Fishing enthusiasts that is, and the stream he refers to is the Byram River.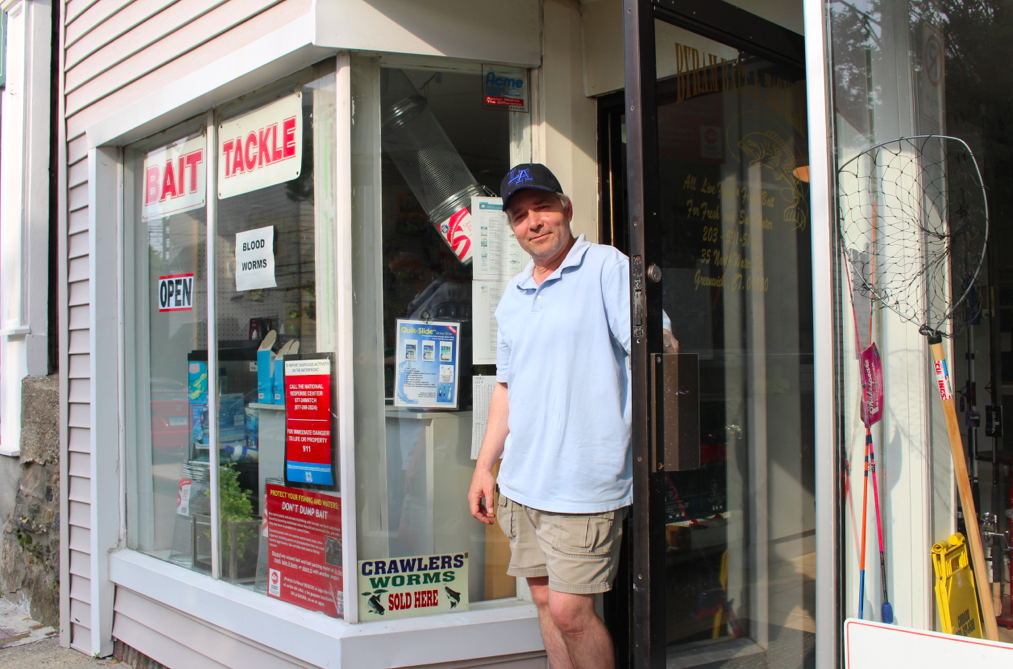 Stahl, a lifelong Byram resident who went to the old Byram School, Western Middle School and Greenwich High School, runs Byram Bait and Tackle at 35 North Water Street. And if you're not into fishing you might hardly notice the small storefront. But just inside the tidy space brims with bait, lures, rods and reels.
Atop the counter are stacks of little white cardboard bait boxes that evoke memories of time spent on the family boat bobbing in the waves or casting off the dock.
On a warm Monday afternoon in June, around 5:00pm, a stream of optimists stopped by the store for bait and its accompanying promise of dinner. They're happy to see Fred and say hello, but at that time of day, they move swiftly back to their cars.
They pop the bait and ice in a waiting cooler and head to the boat, or the dock, the highway underpass, or a favorite perch atop the boulders at the southern tip of Greenwich Point. The pier at the end of Steamboat Rd a stone's throw from Indian Harbor Yacht Club draws a steady stream of anglers.
"We're right on Long Island Sound. There's marinas, and beaches and parks," Fred said of countless potential fishing spots. The only caveat is the list of DEEP fishing regulations on maximum creel catches, minimum lengths and open season times for different fish.
Stahl said that business had slowed a bit with Soccer World Cup enthusiasm, but was picking up steam. "We're usually very busy this time of year. The season really gets going in April. Memorial Day weekend we're jamming," he said.
"There was a late start because of the cold and water temperature was still in the 50s back in April, but everything's there now," he said, but added that it's not entirely a seasonal sport. "Striped Bass like cold water. You can catch them year round. Herring season is in the fall, and Blackfish season is in the fall through December," Stahl continued. "And then there is ice fishing. Anywhere there's a pond or lake that's frozen," he said of the determined types who cut through the ice to drop a line.
The bait menu is extensive at Fred's. "There's worms, bunker, mackerel, squid, clams, shiners. A billion different things," Stahl said. Asked about the sign in the window that advertises Blood Worms, Stahl said he sells all types of worms: blood worms, sand worms, night crawlers, wax worms, meal worms, to name a few.
What sets Fred's apart is likely his philosophy.
"I have people come here from all over because we keep our prices low. I'd rather sell five cheap than one expensive," he said. "People come from Norwalk, Westport, Greenwich and Stamford," he added. Then, gazing in the direction of Mill Street he continued. "And they come from Port Chester, Mamaroneck and New Rochelle." Stahl said his prices are cheaper than ordering from the internet and that he will special order items for customers.
Beyond the affordability factor, there's the easy parking right out front and convenience to I-95 as well as fishing spots in walking distance.
"We sell combos that are ready to fish," Stahl said of the display of rods and reels. "Or ou can pick out a reel and a pole and set yourself up. And we have stuff for beginners up to experts. And all fresh and frozen bait for fresh or salt water." As far as clientele, Stahl said, "It's everybody. You'd be amazed. A lot of women are into fishing. And it's all ages."
Byram Bait and Tackle at 35 North Water Street in Byram. Open seven days a week from 6:00am to 8:00pm. Tel. (203) 531-5100.
Related Stories:
Byram Ink: Turning Away Teens, Warning Against "Scratchers" 84 Facebook likes
Looking for Caffé Bon? Check by the Sea 56 Facebook likes