The Greenwich man arrested by Greenwich Police on Monday night on multiple drug charges is employed by Greenwich Schools as a professional assistant at Western Middle School.
According to Greenwich Schools communications director Kim Eves, Mr. Sambo has been placed on administrative leave with pay and without prejudice pending the outcome of a Greenwich Police Department investigation as well as an internal investigation.
Eves said the facts as they are known to date and shared with the district by Greenwich Police do not indicate that any of the alleged activities for which Mr. Sambo has been charged occurred in or around Western Middle School.
Nor is there any indication that the activities involved Western Middle School students or staff.
Mr. Sambo, 42, of Armstrong Court, Greenwich, was arrested after police conducted lengthy investigation into a suspected drug dealer living in Greenwich.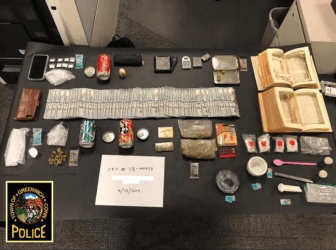 Police seized approximately 20 grams of suspected cocaine, a small amount of marijuana, and numerous items associated with the weighing, concealing, storage, and packaging of narcotics for sale. In addition, $7,000.00
Sambo was charged with Operating a Drug Factory, Sale/Possession of Narcotics within 1,500 feet of a school, Possession of Narcotics with Intent to Sell, Illegal Possession of Narcotics, Possession of Marijuana Greater than1/2 Oz and Possession of Drug Paraphernalia.
Sambo's bond was set at $50,000.00 bond and he has a date in Stamford Superior Court on April 1, 2019.