Greenwich Avenue at 4:30pm on Tuesday.
Greenwich Avenue at 4:30pm on Tuesday.Update, Wednesday 11:00am
"The winter storm passed through the area without severe impact to the Greenwich community. We are very grateful to our citizens that supported our recovery efforts by staying off the roads and allowing crews to do their jobs," said Greenwich Police Patrol Division Commander Captain Robert Berry. "As we all continue our clean up efforts we would like to remind our residents and businesses that sidewalks must be cleared and buried cars must be shoveled out."
Captain Berry reminds residents that sidewalks have to be cleared according to Town Ordinance no later than 18 hours after the storm and cars can only be left unmoved on public roads for 24 hours.
"We sincerely appreciate everyone's cooperation in getting the Town back to normal as rapidly as possible," he said.
Update: Tuesday, 7:30 pm
Greenwich Public Schools have announced there will be a two-hour delayed opening on Wednesday.
Greenwich Police were in a reactive mode on Tuesday, responding to 74 calls. There were three motor vehicle accidents, but none were serious.
A tree landed on a wire on North Porchuck Road, causing a shut down in power. The fire dept responded to one serious call involving a carbon monoxide alarm that went off. "They responded and ventilated the house, finding it had a low CO level within the house. They  left the house with no injuries," Lt. Gray said in an audio release.
There were six casualties on Tuesday, but none were storm related.
"Overall we had a relatively quiet day considering the conditions and the projections," said Lt. Kraig Gray, though, he said there were complaints about the town's snow plowing.
"People have to realize that plowing is a process in which they make the roads clear and passable for emergency vehicles, and that as time goes on and the storm continues the real  cleanup begins, and that will come later. They have a priority in which they plow and a process in which they attack the problem of removing show."
Gray said there are 12-18 hours after a snowfall after which anyone with a sidewalk should have it cleared.
The town snow parking ban will be lifted at noon on Wednesday.
Greenwich Town Hall will re-open for normal business on Wednesday.
The Board of Education Charter Revision recommendation meeting will be held as normal at 6:00pm.
Travel Ban
Governor signed an order activating a statewide travel ban that began at 5:00 a.m. on Tuesday and will remain in effect until further notice.
This means that all state roads are State travel ban means that all state roads are closed except to those whose services are absolutely essential for emergency purposes.
The CT Dept of Transportation spent Monday pre-treating roadways. The agency has 634 plow trucks and 250 private contract plow operators on standby to be called in if necessary.
Check in with the states winter storm update website.
Update, Tuesday, 11:00am Greenwich Police Lt. Kraig Gray issued an audio statement to the media updating residents on the storm conditions.
"As of this time we have had no storm related accidents, casualties, community wide power outages – nor has there been any flooding," he said.
However, he said one issue Police experiences was a lack of compliance with the parking ban on snow emergency routes* (see list below).
"It required that officers went out and ring doorbells to get the registered owners out and get the vehicles moved," he said.
Lt. Gray said there have been a few private contractors plowing out driveways and pushing snow into the roadway. "This is a safety issue, particularly in snow emergency routes that are kept open so that an fire truck, police or ambulance can get through during an emergency."
Residents are requested to stay home during this storm.
All parks and town facilities are closed on Tuesday and residents are asked by Police to restrict your sightseeing until after the storm.
Metro North stopped running trains in and out of Grand Central Terminal as of noon on Tuesday.
Update, Monday 5:30pm
The Board of Selectmen has declared a snow emergency effective 6:00pm on Monday until further notice (Watch this site for updates on the snow emergency).
Greenwich Police Captain Robert Berry send out a robocall to residents to alert them to the snow emergency and what it means:

Residents must not park on snow emergency routes (see list below of click here). Residents may leave their cars in designated municipal lots listed on the town website.
The lobby of the public safety complex will remain open 24 hours a day.
Town Hall and Greenwich Public Schools will both be closed on Tuesday, March 14.
Other Greenwich Public School cancellations:
• PTAC Parent PE/HEalth Curriculum Workshop scheduled for Tuesday, March 14 has been cancelled.
• Community Service Awards
will now be held on
Thursday, March 16
(5p-6:30p at GHS PAC) (originally scheduled for
March 14, 5PM
)
• Kindergarten Orientation
will now be held on
Friday March 17
(see schedule attached) (originally scheduled for
March 15
, AM)
• The Mindfulness Event
 scheduled for
March 15
has been cancelled. Stay tuned for new date)
• The K-12 District Art Show Opening
scheduled for
Thursday, March 16
, 5:30p – 7:00p will not change.
Also closed: Holly Hill Resource Recovery Center and Greenwich Point, Greenwich Libraries and Bruce Museum.
Police urge residents to get prepared on Monday and avoid the roads on Tuesday as they will be hazardous.
Residents in low lying coastal areas should be prepared for potential flooding.
"Greenwich Police are coordinating with our local partners in public safety, public works and other Town departments to heighten our preparedness for the impending winter storm," said Captain Robert Berry. "GPD is poised to respond to any emergency regardless of the weather conditions and we are enhancing our staffing accordingly. We urge all residents to ensure they and their families are prepared for the heavy snowfall which may result in power outages and to please stay off the roads until snow removal crews have cleared the roads."
Photo of Officer Luke Kelly loading trunk with additional flares.
Anyone with an emergency should call 911. The non-emergency numbers are (203) 622-8004 or (203) 622-8005
Status of scheduled meetings:
• The Board of Estimate and Taxation Budget Committee meeting scheduled for 5p.m. Tuesday, March 14 also has been postponed until 4:30 p.m. Monday, March 20.
• The Board of Selectmen's public hearing on the proposed Board of Education Charter Revision report, remains scheduled for 6 p.m. Wednesday, March 15 in the Town Hall Meeting Room, as does the March 16 meeting at 3 p.m. in the Town Hall Meeting Room, to vote on the proposal. In the event that Town Hall is closed on Wednesday, March 15, both the hearing and public vote will be held at future dates to be determined.
Items to Include in a Storm Kit:
At least a three day supply of non-perishable food, water and medication for each person and pet in your home.
A hand-crank or battery powered radio with extra batteries.
A flashlight.
A first aid kit.
Extra fuel for a power generator.
Reporting Power Outages to Eversource:
Call Eversource at 800-286-2000 to report an outage or to speak with a customer service representative.
Important Resources:
The National Weather Service has honed in the time frame of the blizzard warning to begin at midnight on Monday til midnight on Wednesday.   Anticipate heavy snow and blizzard conditions as snow may total 12″ to 20″, falling 2″ to 4″ per hour on Tuesday.
The snow may mix with or change to sleet and rain across coastal areas.
Impacts to include dangerous travel due to possible whiteout conditions. Roads may become impassable and power outages are possible.
Update Sunday 8:00pm: Greenwich Police are urging residents to make sure their supplies, including medicines are in order for the potential of an extended power outage. "Be a good neighbor especially to the elderly and for those with special needs and help them prepare for a big storm," Police said in a Facebook post.
Also, Greenwich Police have canceled their Coffee with a Cop event which had been scheduled for Tuesday, March 14.
Original Story: Sunday 12:30 pm
March may go out like a lion.
The National Weather Service is urging residents to prepare for a potential Nor'easter.
The NWS Blizzard Watch* for Southern Fairfield County goes into effect on late Monday night, continuing through the day on Tuesday and into the Tuesday evening.
The forecast is for 12″ to 18″ of snow, along with possible sleet and rain.
The temps will be in the upper 20°s and impacts will include dangerous travel and potential for power outages due to damaging wind gusts possibly across eastern Long Island and extreme Southeastern CT.
*A Blizzard Watch means there is potential for falling or blowing snow with strong winds and extremely poor visibility which can lead to whiteout conditions and made travel very dangerous.
---
Snow Emergency Routes:
List of Snow Emergency Streets

Central Greenwich
Amogerone Crossway

Arch Street
Benedict Place
Bolling Place
Brookside Drive
Bruce Park Ave
Bruce Place
Church Street
Connecticut Ave
Davis Ave
East Elm St
East Putnam Ave
Fawcett Place
Field Point Rd
Greenwich Ave
Grigg St
Havemeyer Place
Hillside Rd
Horseneck Lane
Hunter Place
Lafayette Place
Lake Ave
Lawrence St
LeGrande Ave
Lenox Drive
Lewis Street
Lexington
Locust Street
Maher Ave
Maple Ave
Mason St
Milbank Ave
Perryridge Rd
Railroad Ave
Ridge St
Sherwood Place
Shore Rd
Sound View Drive
Shore Rd
Steamboat Rd
West Elm St
West Putnam Ave
William St
Byram
Beech St
Byram Rd
Cedar St
Chestnut St
Church St West
Delevan Ave
Division St West
Hervey St
Kirby St
Mead Ave
Mill St
North Water St
Oak St
Pine St
Richland Rd
South Water St
Spruce St
Western Junior Highway
William Street West
Chickahominy
Hamilton Ave
Old Field Point Rd.
St. Roch's Ave
Pemberwick
Comly Ave
Pemberwick Rd
Moshier St
Glenville
Glenville Rd/St from Glenridge Rd to Pemberwick Rd
Riversville Rd from Glenville Rd, north to entrance to Glenville School
Cos Cob
Bible Street
East Putnam Ave (Field Rd to Diamond Hill)
Loughlin Ave
Orchard St
Relay Place
River Rd
River Rd Extension
Sinawoy Rd
Sstrickland Rd
Suburban Ave
Valley Rd
Riverside and Mianus
Hendrie Ave
North Sound Beach Ave
 Valley Rd
Old Greenwich
Arcadia Rd
Lockwood Ave
Sound Beach Ave
West End Eve
Other Areas
All municipal parking lots
---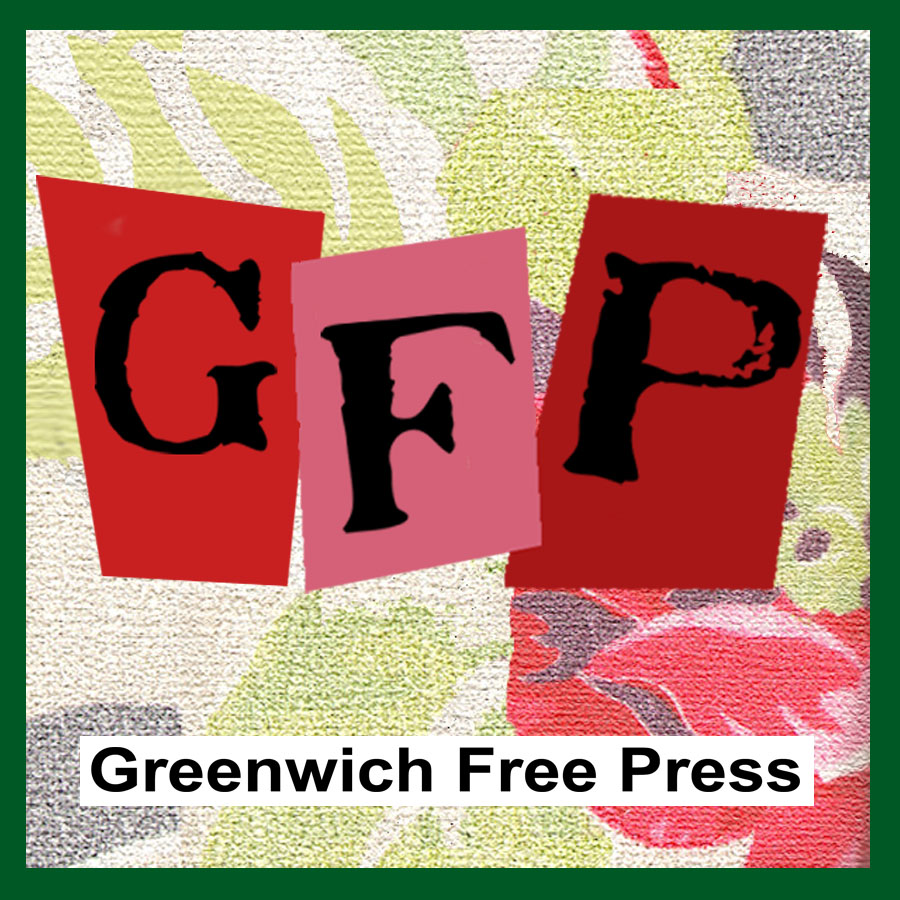 Email news tips to Greenwich Free Press editor [email protected]
Like us on Facebook
Subscribe to the daily Greenwich Free Press newsletter.