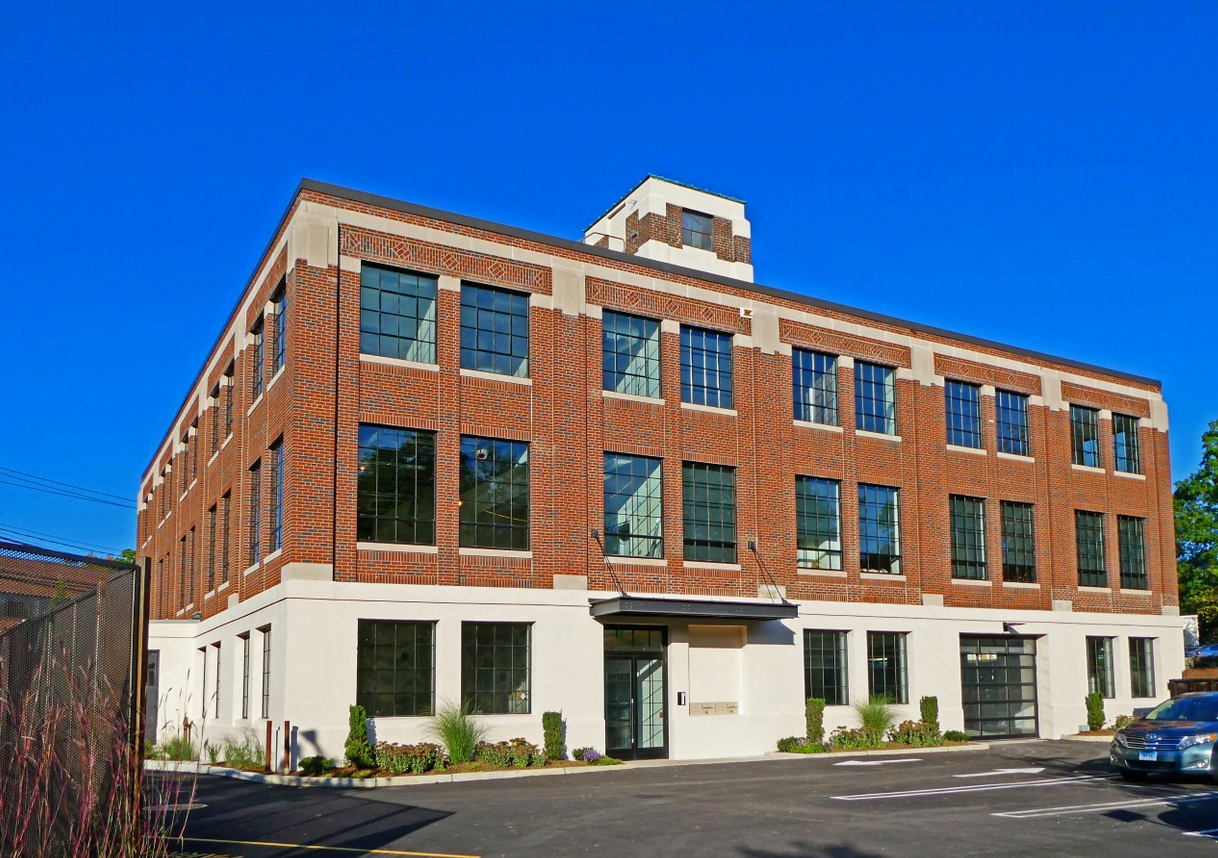 The ownership of the newly renovated historic 330 Railroad Avenue office building in downtown Greenwich have signed a new lease with CNH Finance, LP. As of January 1, CNH is moving its offices two blocks west, from 2 Greenwich Plaza to a 3,423-square foot brand-new pre-built suite on the first floor.
The pre-built ready-for-occupancy office suite has Class A finishes that include 14-16 foot ceilings, exposed brick walls, polished concrete floors, glass front offices and conference rooms, an open-plan pantry area, and all-LED lighting.
The building has two additional pre-built suites available on the top floor, 2,537SF & 2,370SF with the same contemporary design of offices, open space and a kitchen/pantry that highlight the "industrial-chic" look and feel of the overall building renovation.
This Art-Deco inspired landmark building is just two blocks from the Greenwich train station, has been listed on the Connecticut Register of Historic Places, and is the new headquarters of Granoff Architects, which occupies 9,000 square feet.
A second lease was recently completed with Stone Point Capital, so the CNH lease is the third deal this year, bringing the just-completed building to over 55% occupancy.
The former CL&P building has been completely renovated with a preservation of the historic façade design and brand new internal building systems – all new HVAC, electric service, elevator, plumbing, historic replacement windows, extensive site work and both indoor and outdoor parking.
The interior of the building features 12- to 14-foot ceiling heights, exposed brick walls, concrete floors and feels like high-tech office buildings more commonly found in Soho, Tribeca and Brooklyn, New York. The building is a candidate for LEED Silver certification due to the environmentally sensitive renovation process and sustainable design features.
The property was sold in March 2016 by Eversource Energy to 330 Railroad Avenue LLC, of which the principals are Richard Granoff and Jeffrey B. Mendell. For leasing information please visit www.330railroad.com, or call Allan Murphy or James Ritman of Newmark Knight Frank at 203.531.3634.