John L. Cooney, of Port Chester, NY passed away Thursday, September 15, , 2022 at the age of 97. Known as Johnny, he was born in Greenwich, CT on January 13, 1925, to the late Hugh and Mary Cooney.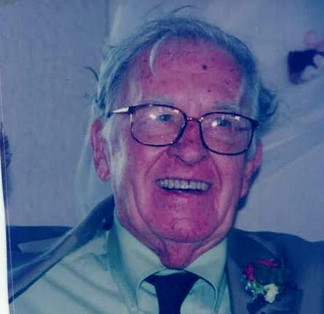 Johnny proudly served his country in the 4th Infantry of the Marine Corps. During WWII, where he received a Purple Heart for injuries sustained in battle in the Pacific Theater. After Johnny returned home, he attended the Parson's School of Design in New York City, where he met the love of his life and wife of 57 years, the late Elizabeth "Lee" Cooney.
Johnny spent much of his career in advertising, before working in sales at Partridge & Rockwell in Greenwich. Johnny and Lee loved to vacation on Cape Cod, and their family, friends and dogs always shared a home full of joy, love and laughter. In addition to his wife Lee, Johnny is predeceased by his sisters, Margaret "Peggy" White and Mary "May" Cooney and survived by his loving children, Elizabeth "Betsy" Yancy and John "Doug" Cooney, his cherished grandchildren Raegan and Martina and great-grandchildren John and Erin.
To honor Johnny's life, a memorial gathering will be held Friday September 23, 2022 from 4:00pm to 8:00pm at Coxe & Graziano Funeral Home, 134 Hamilton Avenue, Greenwich. A prayer service will take place during the memorial.
For more information, or to place an online condolence, please visit www.coxeandgraziano.com.