The America's Voice News event organized by Greenwich native and former Navy Seal Carl Higbie took place at Greenwich Town Hall Wednesday night.
The evening featured a few surprises.
First, the two panelists who were supposed to represent the left –
"Liberal Sherpa" Cathy Areu and "Democratic Socialist" David Stevenson – were not present, and there was no mention by organizers as to why.
Higbie said despite his many invitations, "No liberals showed up." But, he said, "When you debate the liberal ideology, it loses."
Also missing was Fred Camillo, State Rep (R-151), who withdrew from presenting opening remarks a few days ago, citing obligations in Hartford.
A late addition to the panel, Benji Irby, told the audience he was a gay black conservative activist from New York City near Alexandria Ocasio-Cortez's neighborhood.
The three remaining panelists – Higbie, Borelli andMr. Irby, all represented "the right."
And so for 90 minutes Higbie's promised bi-partisan debate between left and right wound up being a back and forth between the three conservative panelists and three vocal members of the audience, Jennifer Woldman of New Canaan, Hale McSharry of Greenwich and David Cox of Greenwich, who held up a handmade poster that said "Bigotry is unpatriotic" during the event.
When asked if they supported Donald Trump's wall, the audience almost universally raised their hands.
At one point, Mr. Borelli thanked the three Democrats in the audience. "I give you credit for walking into a room where a lot of people disagree with you," he said.
The event started with an introduction by Greenwich First Selectman Peter Tesei who talked about free speech.
"Greenwich is a diverse community representing 50 countries around the globe, as well as many races, religions, ethnicities and sexual orientations," the First Selectman said. "The past rhetoric and bigotry of the organizer has been the focus of much public debate the past several days. The hateful rhetoric does not reflect the Greenwich community. While we do not agree with the organizer's opinions, it is our hope that we will demonstrate that Greenwich where the right of free speech will be exercised with civil discourse in a safe environment."
Tesei did not mention that much of the controversy had to do with his granting permission to America's Voice News for the event, when town policy is that only on-profits are allowed to reserve rooms.
Alison Maloni, the CEO of Alison May Public Relations, moderator for the evening, said she wanted to start by addressing the controversy surrounding the event.
Higbie, who said there had been 65 opinion pieces in recent days, asked the audience to raise their hands if they'd said anything in their lives that they regretted. That was a reference to Higbie's racist, homophobic and anti-Muslim comments made in 2013 that were published by CNN a year ago and resulted in his resignation from the Trump administration.
The audience dutifully obliged, and nearly everyone raised their hands.
Higbie said six years ago he "said some things I regretted." But, he said, "People should not hold a grudge." Rather, like the Greenwich Schools motto, they should "let go and move on."
Mr. Borelli agreed. "I'm concerned about the intimidation of free speech," he said, adding, "On college campuses, liberal activists have tried to shut down conservative voices, which is un-American."
Borelli said he was surprised there was so much push back on "a simple town hall debate."
During a break, Democratic Town Committee chair Tony Turner, the only Democratic official at the event, spoke to reporters. Turner said the event was an embarrassment for the Town.
"Where is everybody?" he asked. "There is not a single Republican leader here. This is a sad day for Greenwich. It's very clear that this entire meeting is out of touch with our Town. Where are the Republican leaders? Peter Tesei was in the room for 90 seconds."
Mr. Turner said the event was missing constructive conversation.
"Rather than spending 29 minutes about a wall, and the first 15 minutes justifying having the meeting in the first place….There's so many aspects of tonight that underscore it being out of touch with the Town, and First Selectman being out of touch with the Town. It's not standing room only."
"If it (the purpose of the event) is to get together and talk about kitchen table issues facing people every day, the mission has failed," Turner continued. "They have not achieved their objective of having a true civil discourse…. This is very embarrassing for us."
The event was live streamed on America's Voice News. After a commercial break, which featured a commercial for American Residential Warranty (ARW), the panelists continued to talk about President Donald Trump's proposed wall on the US southern border.
The moderator asked for a show of hands of people who thought the President should have continued the government shut down in order to win funding for the wall. Almost everyone in the room raised their hand.
Mr. Higbie said the President is fighting for something that people do indeed want, but are vocally opposed to because they don't like President Trump.
Mr. Irby said he was supportive of the government shut down. "I wish the messaging had been different. We heard about the 800,000 people effected. But the millions who lost jobs through illegal immigration – there's no headline stories about them. ….The administration needs to bring out the fact that the illegal immigrants, African Americans and Hispanics are at the bottom of the economic ladder, and the illegal immigrants are taking their jobs."
While large TV monitors played scenes of immigrants clamoring through gates, Mr. Borelli said two MS-13 gang members were apprehended at the southern border in the last two weeks, and that a large amount of cocaine had been seized there.
Since there were no panelists representing the left, audience member Jennifer Woldman from New Canaan was given several minutes to respond.
Woldman said experts in the Trump administration had advocated not necessarily for a wall, but for more judges, drones and staff to process claims of people who truly need asylum.
"We need money for smart border security," she said, adding that President Trump's wall would require the use of eminent domain.
Woldman said her understanding was that Republicans oppose the use of eminent domain.
"We shouldn't take anything by eminent domain," Mr. Irby said. "But if you want smugglers running across your property, that's fine."
When Ms. Woldman, Mr. McSharry and Mr. Cox asked Mr. Higbie to say where he got his data, Higbie replied he didn't have his Trapper Keeper, and the audience laughed.
Borelli said migrants are flooding over the border. "What bothers me is the misinformation. That it's a manufactured crisis. Just look at the evidence over the last few years, over 260,000 illegals were arrested, and a number were 30,000 charged with sex crimes. And 4,000 murders. This is demonstrable evidence. To sit there and  deny that is a problem, I don't understand the logic of those on the left. I think it's really politics. Before Trump  they were all for border security. Now that Trump is there, they're not. …They're putting Americans at risk."
Higbie said that if a wall is built, it will be a permanent structure. "That's what the liberals are terrified of. They're terrified of a monument to Trump. If it gets built it's a win for Trump. If it doesn't get built, it's a win for Nancy Pelosi."
Mr. McSharry said 60% of people in the US illegally are people who overstay their visas.  "Why is it worth spending billions upon billions of dollars on something so archaic as a wall like the Great Wall of China? We're seeing death, violence and destruction at the hands of American agents."
Higbie said over 50% of illegal immigrants had overstayed their visas, but he said the wall would impact about 30% of illegal immigration. "And 30% of deaths and trauma and hurt on the American economy would be stopped," he said.
Ms. Woldman asked Mr. Higbie where he got his data.
Higbie suggested Ms. Woldman check Google.
"I'm a firm believer in property rights. If somebody tried to take my house by eminent domain, I'd be pretty pissed off," Higbie said. "You have a large number of citizens with hundreds of thousands of acres, you say, Guess what? You're going to the be the point of entry for a cartel."
Woldman asked Higbie how the $5.7 Billion for the wall on the southern border was calculated.
"Where is the data on how much the wall would cost? How can you expect Congress to appropriate funds without factual data," she asked.
"We know it'll start at $5.7 billion. Let's start there," Higbie said.
Borelli said that country's budget is over $4 Trillion. "To shut down the government over $5.7 Billion? It is a fraction of the budget. What is their problem?"
---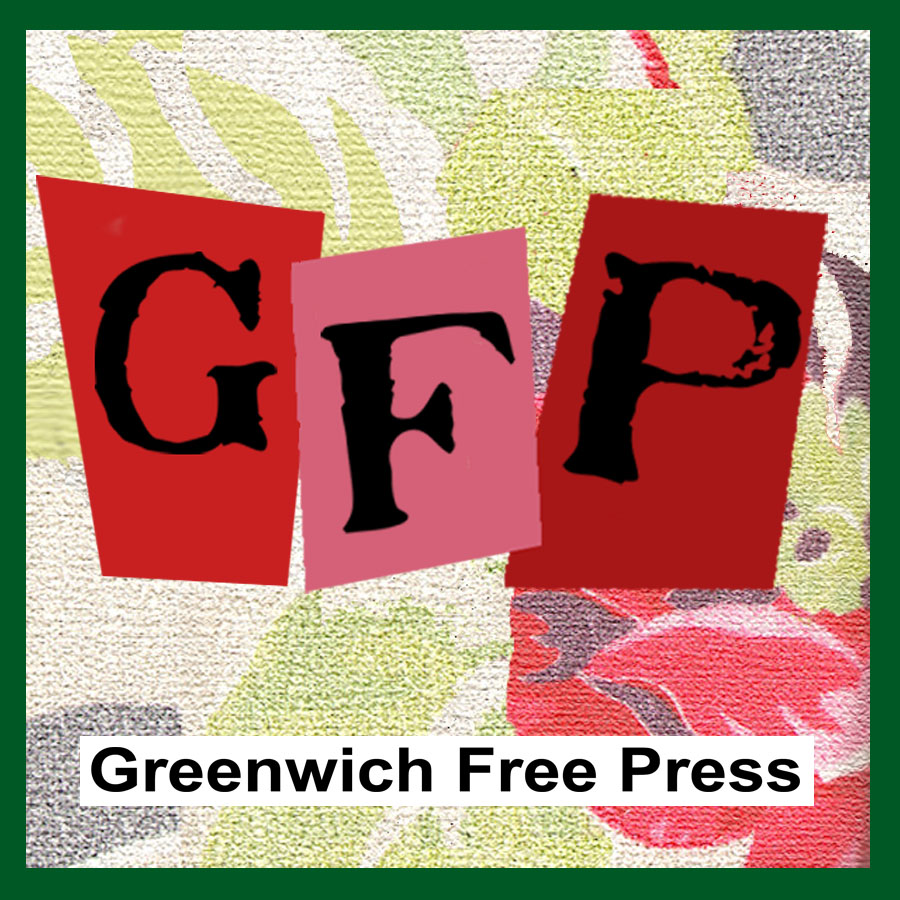 Subscribe to the daily Greenwich Free Press newsletter.
---
After the lengthy discussion about "the wall," conversation touched on whether health care if a fundamental human right, whether socialism is bad, and guns.
David Cox, the man with the protest sign, challenged the adage, "The only thing that stops a bad guy with a gun is a good guy with a gun."
"Large magazines are one of the enablers of these massacres," Cox said. "Most Democrats support the right to bear arms. I don't know anyone who thinks no one should have guns. But firing off twelve bullets or more, in what scenario is that necessary?"
"How many gun fights have you been in?" Higbie said.
"You were in a war zone. What's the relevance?" Cox asked.
"I've been in fights where the other guy ran out of ammo. What do you think I did? I shot him," Higbie said.
"The other thing that stops a bad guy is them running out of ammo. Are you against limits on magazines?" Cox asked.
"I was in the business of guns, war and killing, and for you to stand there and say you need limits on ammo is morally abhorrent to me," Higbie said. "You have no idea what you're talking about."
"If you don't want to have high capacity magazines, don't own a gun," Higbie said. "This is America and we have the second amendment. And you know, it's just damn fun."
One of the topics was the fate of President Trump, and whether he might be impeached.
"They should do it because it will make them look ridiculous," Mr. Irby said. "It'll make us look better in 2020. Go ahead Maxine."
"He's done a tremendous job in the economy and the border," Mr. Borelli said referring to President Trump.  "He served issues most Americans never realized were going on. Americans are now being educated on the border security. The FBI and this whole cabal is frightening. Look what they did to poor Roger Stone. They had a whole SWAT team surrounding his house. Is this America? The government is way out of control. This could happen to any of you."
Mr. Higbie agreed. "I don't think he should be impeached. Go ahead and try. Robert Mueller is the most powerful man in America. He can't be fired and he has an unlimited budget. There's no oversight. Guess what? Nobody elected him. You talk about the ability to have guns in the house? I've had kids break into my house.  It's a scary thing when someone kicks in your front door."