Over the course of Summer and Fall of 2015 Greenwich Free Press was invited inside a series of apartments at both Wilbur Peck and Armstrong Court – both are apartment complexes owned and managed by the Housing Authority of the Town of Greenwich (HATG).
Five residents allowed us to take photos on the condition we not reveal their identities.
According to the HATG website, HUD Subsidized Developments include Wilbur Peck Court, which was built in 1953. It has 110 family apartments. In Chickahominy, Armstrong Court, built in 1951, has 144 family apartments. According to the HATG website, this housing complex was built with financing provided by the State of Connecticut.
Patterns emerged from our conversations with tenants and the photos we took.
Tenants in both locations complained about insects – in particular, cockroaches, bed bugs and pantry moths.
"I have had moth larvae on the kitchen ceiling," one young Armstrong Court parent said. "There were hundreds, or thousands of them. Then they became inchworms. The kitchen and living room swarmed with them," she said. "But that wasn't as bad as the cockroaches. They spray every other week for cockroaches."
"What pissed me off was the housing manager told me I should be a better housekeeper," said the young mother in Armstrong Court.
"Oh, please. When my bathtub filled with (feces), did they clean that up for me?" she asked. "No. And when my kitchen sink bubbled up when the water wasn't even running?"
"They told me to get a toothbrush and scrub the mold on the grout in the bathroom," she continued, shaking her head in disbelief as she poked the paint on her bathroom wall, revealing a sponge-like sub-surface.
This woman said her pre-schooler has suffered from respiratory problems that have worsened during her short life in Armstrong Court. "She has gotten worse. We had to get her a Nebulizer." (A Nebulizer is a a drug delivery device used to administer medication in the form of a mist inhaled into the lungs, commonly used for respiratory diseases.)
"These are not ordinary cockroaches," a Wilbur Peck tenant said. "These are some crazy, three legged, polka-dot flying cockroaches." She described also having repeat infestations of bed bugs. She said she was convinced the bugs returned through the pipes that connect apartments. She said the bed bugs had returned repeatedly.
"Each time the bed bugs come back, it's impossible to sleep. They bite us at night.  I'm wide awake at 2:o0am," she said. "Then when they come to spray, you have to leave the apartment all day because it's not safe. And you have to wash everything you own. Then, you have to dry it on high heat to kill the bugs."
She said there had been disputes over who would pay the bill for Orkin for spraying – tenants or HATG management. "I can't pay that kind of bill," she said, pointing out that the Orking bill totalled more than a month's rent.
"And you have to be out of the apartment for hours while the spray dries," she said.
This same woman described hearing mice in her apartment walls and seeing rats outside. She said rodents were attracted to the overflowing garbage cans and dumpsters.
"It's a rodent infestation galore," she said, gesturing out the window.
Another Wilbur Peck mother who mentioned she suffered from asthma, said her bathroom ceiling had leaked more times than she could count. As with others, she pointed out where water continued to seep in through the ceiling, rendering plaster patches and coats of paint futile.
She said she couldn't prove with certainty the cause of her asthma, but that she knew cockroaches are associated with asthma.
(The CDC's list of common triggers of asthma includes cockroaches.)
"Maybe it's the mold," she shrugged. "There's no fan in the bathroom," she said, pointing out to dark blotches around the bathroom sink, tub, exposed pipes and ceilings.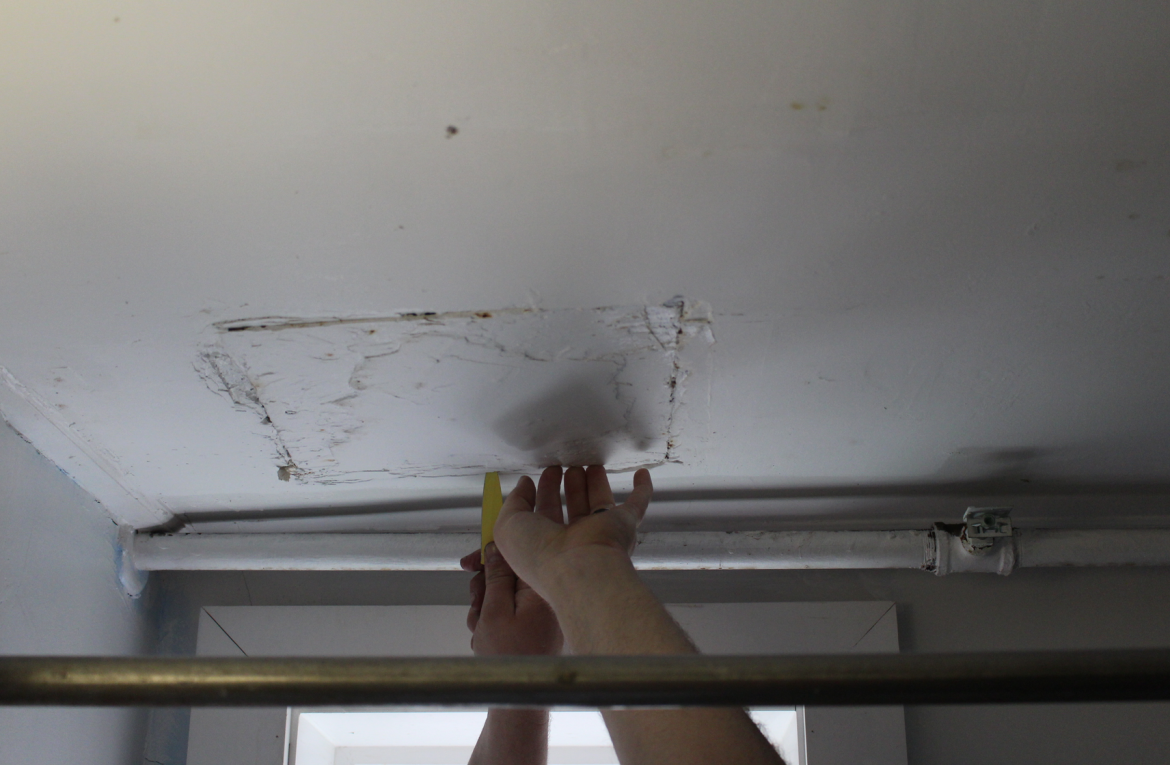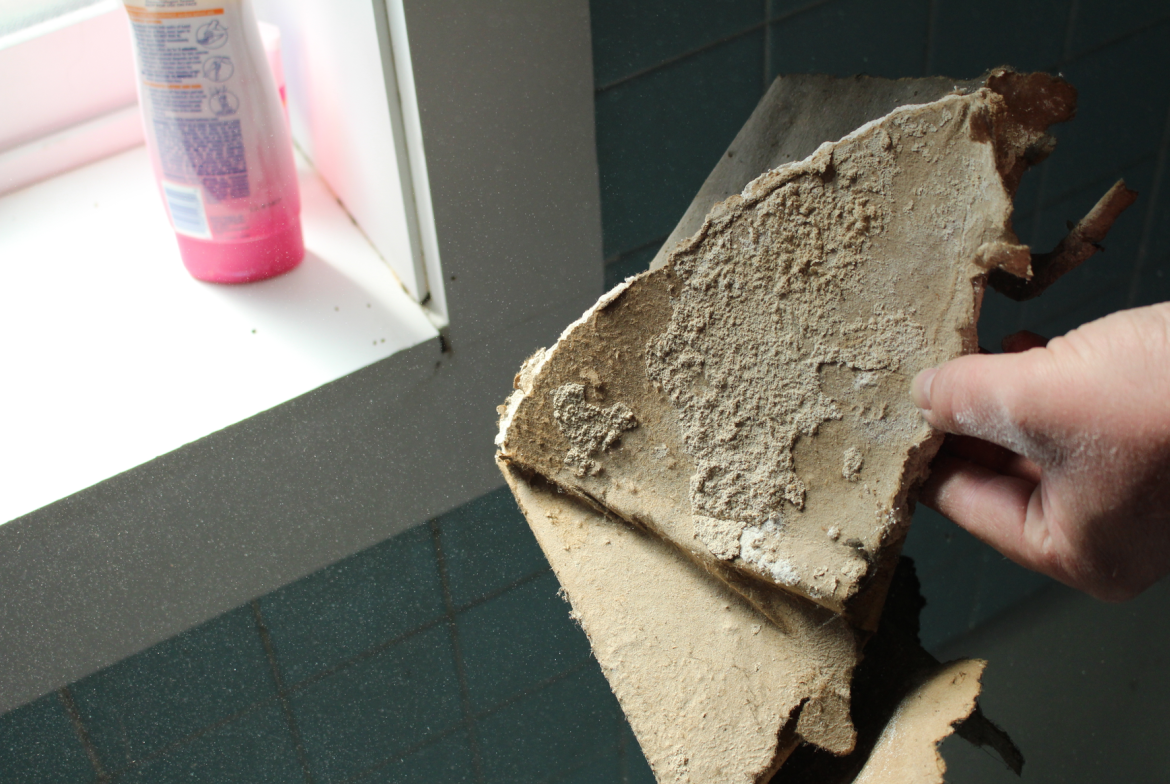 Her husband pointed to the patched ceiling over the shower head. "Want to see what's up there?" he asked. Using a kitchen knife, he popped out the a 12″ square patch, revealing a leaky pipe above, and a moldy square of either plaster or sheet rock.
Pointing to black slimy mold around her kitchen sink, the wife said the mold simply would not go away.
"We just bleach and bleach it," she said, pointing to the containers of Clorox keeps under the sink. "I buy it in bulk at Costco and even mop the floor with it."
"Last year, in the dead of winter, a pipe in the breezeway burst and we didn't have hot water for three days. They were out there with a machine – it was a heater to try to dry it all out," she said.  "Water and warmth are catnip to cockroaches.'
One resident we spoke to described having seen a rodent the size of a football out by the dumpsters, which were overflowing during all of our visits to Wilbur Peck.
(Story continues after photos below)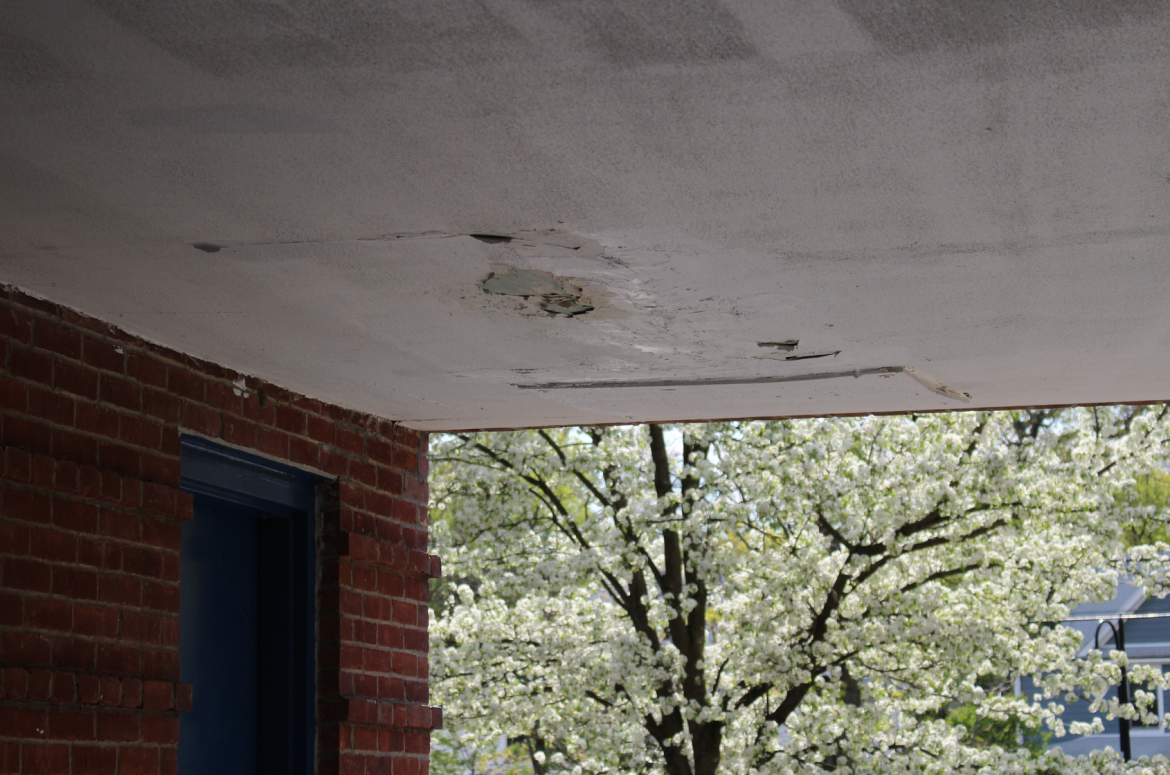 At Armstrong Court, a tenant said that when she complained about cockroaches in her apartment, a housing manager suggested she should improve her housekeeping skills. On the day of our visit, the apartment was spartan. A single sofa and single chair. There were a few small plastic toys appropriate for a pre-schooler.
After an hour in the apartment, this reporter experienced a stuffy nose. She had the same experience during visits to Wilbur Peck.
"My son and I had to throw out our furniture," said the young Armstrong Court mother. "Then they tried to send us the bill."
"I come home from work at night and there's no place to park, so I have to park by the fire hydrant," she said. "This place is full of cars of people who don't live here…People just leave their cars here. There are resident stickers, but there's no enforcement."
On the day GFP visited this young parent, she said the HATG had left recently a flyer in her door advising of a mandatory fire inspection.
"The housing people and fire department were going to come and inspect starting at 8:30am promptly," she said. "They never showed up." She explained that the notice said residents did not need to be present during the inspection, but she wasn't comfortable having strangers in her apartment when she wasn't home and had waited for them to knock on the door for hours.
While residents shared their concerns about the correlation of asthma and respiratory problems with cockroaches and mold in HATG properties, more than one said they had difficulty reconciling  the HATG's broadsweeping new no-smoking edict with their health problems.
A former Armstrong Court tenant shared photos from her top floor apartment showing major ceiling leaks.  After complaining bitterly, she reported the HATG brought her a dehumidifier. She said her children contracted severe skin rashes. (She shared disturbing photos, but we will not publish them in order protect the family's identity).
A CHFA capital needs assessment at Armstrong Court features a photo of significant roof ponding. Click here to see full assessment and more photos: Greenwich- Armstrong_Court_85060D 13388_FINAL.pdf (see page 7)
Also, Greenwich Municipal code includes a chapter on sanitary living conditions and penalties for not complying with Health Department orders.

Sec. 4-52. – Occupancy of insanitary building. The occupancy of any building or part thereof which is in such a condition as to endanger the health of any person is prohibited.
(Ords. & Reg. § 2-1.5, 2/1/40.)
Sec. 4-61. – Enforcement of chapter.
This chapter shall be enforced by the Director of Health, who is authorized to order the remedying of any condition found to violate this chapter or any health regulation of this Code and to initiate all criminal and civil proceedings to punish, abate or obtain any other remedy for any violation of this chapter or any town health regulation.
(Ords. & Reg. § 2-78.)
Sec. 4-63. – Penalty; abatement.
(a) Any person who violates any provision of this chapter shall be fined not more than one hundred dollars ($100.) for each violation.
(b) It shall be the responsibility of the offender to abate the violation as ordered by the Director of Health. Each day's violation shall be deemed a separate offense.
(Ords. & Reg. § 2-1.13, 10/27/60.)
Sec. 5-24. – Sanitary premises required.
No owner shall let to any occupant any vacant dwelling unit unless it is clean, sanitary, and fit for human occupancy.
(Ords. & Reg. § 2-7.6.7, 2/1/1940.)
Sec. 5-36. – Extermination of rodents
(a) Every occupant of a dwelling containing a single dwelling unit shall be responsible for the extermination of any insects, rodents, or other pests in or on the premises. Every occupant of a dwelling unit in a dwelling containing more than one (1) dwelling unit shall be responsible for such extermination whenever his dwelling unit is the only dwelling unit within the dwelling that is infested.
(b)Notwithstanding the provisions of Subsection (a) of this Section, whenever infestation is caused by failure of the owner to maintain a dwelling in a rat proof or reasonably insect proof condition, extermination shall be the responsibility of the owner. Whenever infestation exists in two (2) or more of the dwelling units in any dwelling, or in the shared or public parts of any dwelling containing two (2) or more dwelling units, extermination thereof shall be the responsibility of the owner.
(Ords. & Reg. § 2-7.8.6, 2/1/1940.)
Sec. 5-43. – Sanitary maintenance required. The operator of every lodging house shall be responsible for the sanitary maintenance of all walls, floors, and ceilings, and for maintenance of a sanitary condition in every other part of the lodging house. He shall be responsible for the sanitary maintenance of the entire premises where the entire structure or building is leased or occupied by the operator.
(Ords. & Reg. § 2-7.9.9, 2/1/1940.)
ARTICLE 3. – UNFIT HOUSING—CONDEMNATION.
Sec. 5-45. – Unfit dwellings designated; condemnation.
(a) Any dwelling or dwelling unit which is found to have any of the following defects shall be condemned as unfit for human habitation and shall be so designated and placarded by the Director of Health.
(1)One which is so damaged, decayed, dilapidated, insanitary, or vermin-infested that it creates a serious hazard to the health of the occupants or of the public.
(2)One which lacks illumination, ventilation, or sanitation facilities adequate to protect the health of the occupants or of the public as prescribed by the provisions of this Chapter.
(3)One which because of its general condition or location is insanitary, or otherwise dangerous to the health of the occupants or of the public.
(Ords. & Reg. § 2-7.10.1, 2/1/1940.)
---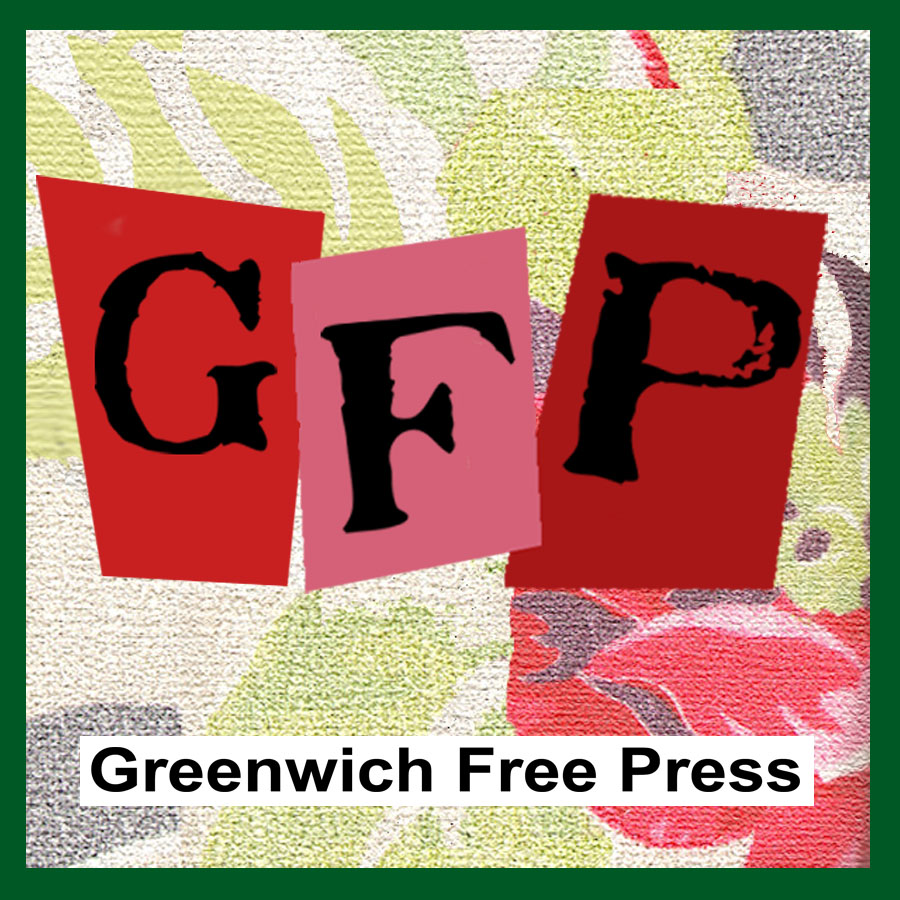 Email news tips to Greenwich Free Press editor [email protected]
Like us on Facebook
Twitter @GWCHFreePress