Greenwich Farmers Market will open for the 2021 season on Saturday May 15. The farmers market, which was opened safely with strict Covid-19 safety precautions last summer, has been a reliable source for jobber-free vendors from Connecticut. They have operated in Horseneck Lot for over 30 years.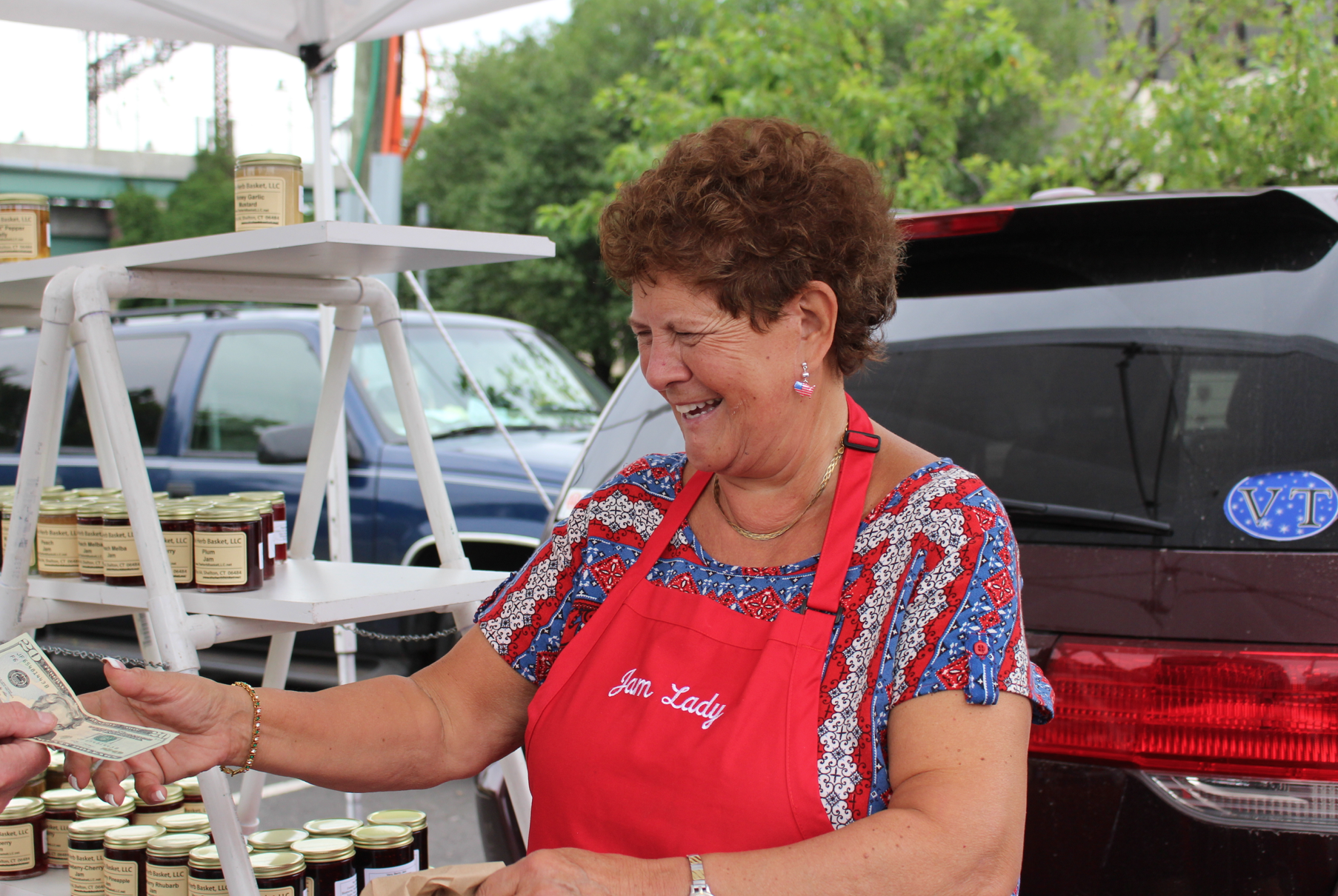 This year vendors will include:
Before and After Farms, offering farm fresh pork and "Oui Charcuterie." The small, family-owned business in Woodbridge is owned and operated by Phoebe and Matt Browning. They provide locally raised and nitrate-free pork products to restaurants and consumers. Also, their "Oui Charcuterie" is artisan cured salami made from the farms' high-quality pork. This is a nitrate-free product, which is almost unheard of within the cured meats industry.
Farming 101 in Newtown, CT, is a small,certified organic homestead farm.
Owned and operated by Jennifer and Trout Gaskins.
They grow year-round in low impact techniques that promote a healthy environment. Their specialty is organic heirloom tomatoes.
The Herb Basket specializes in jams, preserves and gift boxes. Judy Waldeyer is known as "The Jam Lady," which is embroidered on the red apron she wears every Saturday morning to the Greenwich Farmers Market, where at 9:30am she rings a bell to signal the market is open for business.
Waldeyer's jams, jellies, chutneys, relishes, barbecue sauce and pickled vegetables make great gifts. In fact, Judy has gift boxes with various assortments that make great hostess or housewarming gifts. She also said that her hot pepper jelly is is a simple ingredient that makes a cracker and cream cheese quite special when entertaining.
Moorefield Herb Farm is based in Trumbull. Nancy Moore offers a unique mix of herbs, succulents and plants including tomato plants. She sells succulents in small packs.
Moore got the gardening bug when she was a young girl. She recalls her mother would tuck hens and chicks into crevices in the stonewalls. "And my father was an organic gardener long before it became fashionable," she said. "He grew vegetables and heirloom tomatoes."
Oronoque Farms from Shelton, offers pies and cider donuts.
They were voted best apple and apple crumb pie by Connecticut Magazine.
The Local Catch offers fresh Seafood and shellfish. Their slogan is "Wild. Local. Natural."
The Local Catch is unique in their commitment to supporting the local economy and fishing community .
Everything is fresh, never frozen, and all locally sourced from local fishermen from Connecticut, Rhode Island and Massachusetts.
Greenwich customers appreciate the quality and freshness of the fish. All these fish from the Local Catch are caught within the prior 72 hours. The day before the market the fish are cut and packaged and driven to Greenwich at 5:00am. Taste the difference and you'll be hooked!
Some of the varieties of fresh fish include cod, halibut, lobster, scallops, swordfish, bigeye tuna, smoked mackerel and smoked bluefish.
Customers who shop at The Local Catch help the local economy by supporting local commercial fishermen stay in business and reducing the carbon footprint of the seafood they consume, all while obtaining the highest quality seafood available.
Riverbank Farm is based in Roxbury. They offer certified organic produce and prepared foods.
Eat local, eat organic and eat in season with Riverbank Farm!
When in season: Arugula, Lettuce, Beans, Sugar snap peas, Beets, Carrots, Cabbage, Salad mix, Garlic, Onions, Winter squash, Sweet and hot peppers, Cherry, beefsteak and heirloom tomatoes, Eggplant, Watermelons & Cantaloupe, Leeks, Radishes, Spinach, Kale, Swiss chard, Zucchini, Strawberries, Summer squash, Turnips, Celeriac, Cucumbers, Pumpkins & Winter Squash, Herbs, Cut Flowers, Shallots, Potatoes (gold, red, blue, fingerling) Sweet Potatoes, Parsnips…and more!
Sankow's Beaver Brook Farm offers lamb, chicken, cheese, prepared foods. The farmers travel to Greenwich from Lyme where they operate that state's biggest sheep farm on 167 acres.
Victoria arranges farm fresh pieces of cheese made from raw sheep's and cow's milk in tubs filled with ice so customers can pick the type and size to match their desire.
But Sankow's stand is more than meets the eye, with most of the products frozen and kept cold inside a neat coolers. The free samples of sheep's milk cheese and cow's milk cheese usually catch the eye of first-time shoppers. Many become weekly regular customers after a sample.
Seacoast Mushrooms offers mushrooms to suit every palate and recipe. Locally grown gourmet mushrooms in Stonington, depending on the season Seacoast mushrooms are grown indoors in rooms with shelving that house logs on which the mushrooms grow. Everything is tested frequently. They have shelving for the logs and maintain them carefully with the right amount of moisture. Visit Seacoast Mushrooms Facebook page for photos and videos of mushrooms and the growing process.
Smith Acres Farm is based in Niantic, Smith Acres Farm offers fresh produce.
Sugar Maple Farm offers maple products, honey and horseradish.
Two Guys from Woodbridge offer organic, hydroponic produce including salad greens, microgreens and edible flowers. Their featured product is their first: mesclun mix with edible flowers.
Their greenhouses are some of the most advanced in the world. Even the plastic sheathing on the greenhouses help filter out UV rays that are not helpful to the plants. There is a reason their greenhouses are so advanced. Very few farms anywhere grow what
Wave Hill Breads offers award winning hand-crafted artisan breads. "At Wave Hill Breads, we believe in making delicious, artisan bread with ingredients your grandmother would recognize, including many organic whole grains we mill at the bakery."
Woodland Farm offers seasonal peaches, plums, blueberries, raspberries, blackberries, donut peaches and nectarines.
Woodland Farm is a small family owned orchard located in the scenic hills of South Glastonbury. Established in 1963 by the Teveris family, it is currently owned and run by the 2nd and 3rd generation farmers. They grow apples, peaches, pears, plums, raspberries, blueberries and cherries. In the fall they also make their own unpasteurized cider.
The Greenwich Farmers Market will run from May 15, 2021 through November. Horseneck Lot is located at the corner of Horseneck Lane and Arch Street by I95 Exit 3.