Anyone who has ever wondered about the Flinn Gallery at Greenwich Library need know one fact: The gallery is free and open to the public.
Part-time gallery manager Cynthia Whalen remarked that some visitors presume the gallery is private, or open by invitation, when in fact she and the Gallery volunteers who take turns staffing the gallery desk very much enjoy meeting artists, greeting visitors and answering questions.
"People come to the door and are sort of tentative, or think it is private," Whalen said. "And everything is usually for sale here."
A gallery member and volunteer since 1993,  Whalen was hired  two years ago so that the gallery might have a more consistent presence in the library.
Flinn Gallery, which operates as a non-profit arts space receives commissions from the sale of artwork that help support community programming at the Library.
Become a Member and Volunteer
The Flinn Gallery Art Committee, which currently numbers 53, is an all-volunteer group who do everything from select art to curate shows. New members are expected to become members  of the Friends of Greenwich Library, pay dues to the committee of $50 a year, attend monthly meetings usually held on the second Monday of the month, staff the gallery desk for a morning or afternoon once each exhibit, help with installation or take down of an exhibit once or twice a season, and help with opening receptions.
The membership group has a selections committee who meet once a month to select both from artists they seek out and those who submit their work for consideration.
For library patrons working or studying in the carrels and cubbies or find themselves staring too long at computer screens, the gallery, with its generous 100′ x 33′ space and state of-the-art lighting, is a welcome break.
The gallery was named after generous contributors to the capital campaign,  Stephanie and Lawrence Flinn of Greenwich.
The best ways to stay informed about changing exhibits and events at Flinn Gallery is to join the mailing list, like the Flinn on Facebook. Visit their website at flinngallery.com
Artists are invited to submit their work for consideration online.
Flinn Gallery occasionally hosts artist talks like that given in early March by artist Sydney Albertini and sculptor Heinrich Spillmann whose work is on display through Wednesday, March 12.
The next exhibit, 'Animalia,' opens with a reception open to the public on Thursday, March 20 from 6:00-8:00pm. The show features work from sight artists: Jaclyn Conley, April DeMarco, Anne Lemanski, Kathryn Lynch, Jane O'Hara, Alexandra Sax, Jain Tarnower and Brad Woodfin.
Flinn Gallery hosts six shows a year. Every August the gallery puts out a bookmark designed by Debra Fram, who also updated the gallery logos, and designs the bookmarks and invitations.
Click here for schedule of Flinn Gallery shows through June 2014.
Flinn Gallery, sponsored by the Friends of the Greenwich Library, is located on the Second Floor of Greenwich Library at 101 West Putnam Ave., in Greenwich.
Tel. (203) 622-7947
Flinn Gallery Hours:
Monday – Wednesday, Friday, Saturday 10:00a.m. – 5:00p.m.
Thursdays 10:00a.m. – 8:00p.m.
Sundays: 1:00p.m. – 5:00p.m.
Related Stories:
________________________________________________________________________________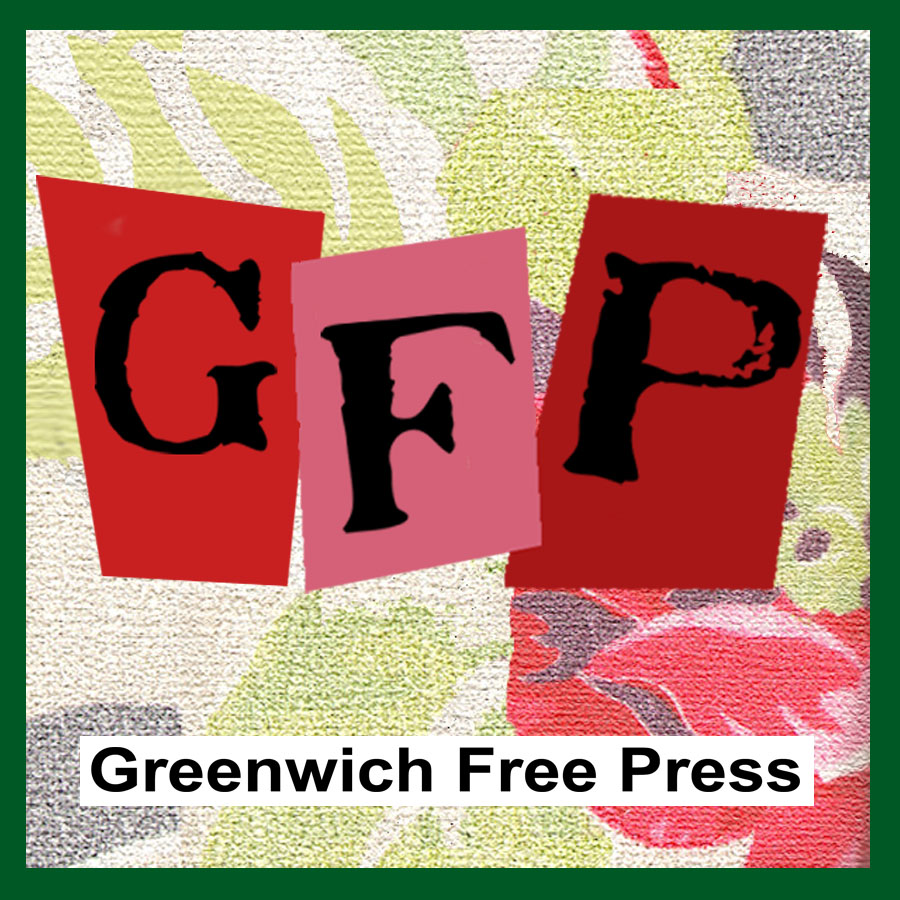 Email news tips to Greenwich Free Press  editor [email protected]
Like Greenwich Free Press on Facebook.