Greenwich beaches are open and the town implemented a way to help sunbathers social distance.
Large hoops placed in the sand keep family groups no more than 5 inside a 15 ft diameter circle, like a giant hula-hoop.
This past Sunday was a perfect beach day, and there were still hoops available until about 1:00pm, which coincided with the tide going out, creating more space in the sand.
Beachgoers are advised to practice social distancing in the parks and parking lots and to wear a mask when they go to the rest rooms, the concession and and when they pass others and are unable to social distance.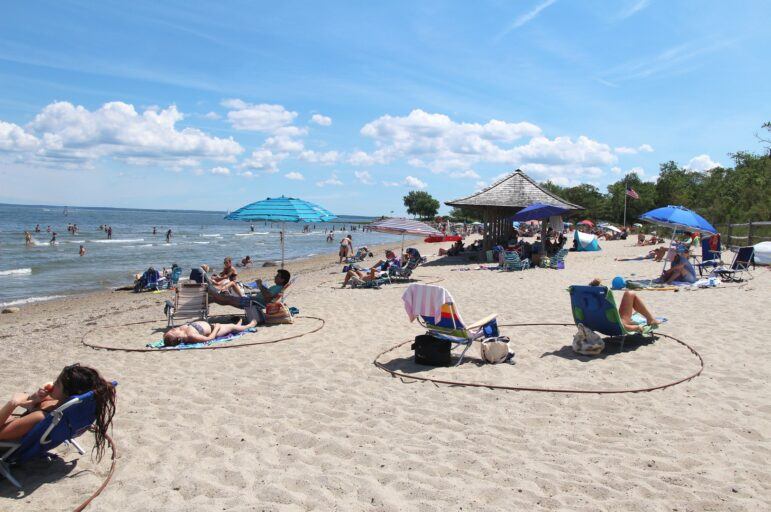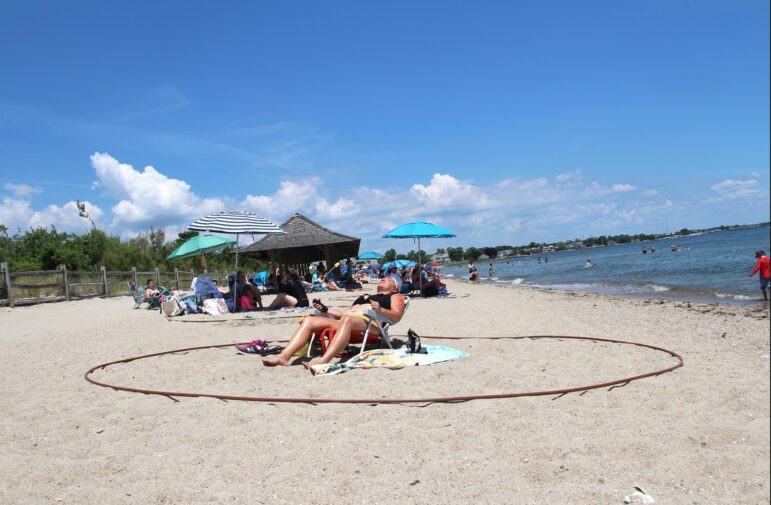 Currently residents are able to use last year's beach pass or a driver's license with a Greenwich address to access Greenwich Point, aka Tod's Point, and Byram Park. That that will soon end.
Beginning July 6, residents will be required to have an up-to-date park pass for admission.
Since Parks & Rec's window service the lobby is closed this year, and Parks & Rec is not taking appointments, residents can renew their seasonal passes online here or by mail. Click here for the beach pass application. Print it out, fill it in and mail it to Parks & Rec.
While Single Entry Park and Parking Passes are not being sold, Town of Greenwich Customer Service Manager Anita Wood said, "Due to the unprecedented Covid-19 pandemic situation, the First Selectman and his task force approved a one time C-19 Special Park Permit for house guests who are temporarily residing with the resident in their home."
The resident can email [email protected] to request a Special C-19 Permit Request form.
Ms Wood also said that when providing proofs of residency, a driver's license that expired during the pandemic valid since the DMV is closed for renewals.
Questions, call the park pass office: 203-622-7817
Parks & Red director Joe Siciliano said at the last Parks & Rec Board meeting that he hoped it might be possible to offer ferry service to Island Beach and Great Captain's Island at the end of June, but an official announcement has yet to be made.
The municipal pool at Byram Park will open on June 29 with a maximum of 100 at a time. (Typically the pool capacity is 240).
At Byram Park, Executive Deli is back for the third year providing a newly expanded menu that includes lobster rolls every day, and a Corona beer-battered fried fish & chips and fried clam strips on weekends.
"The lobster roll is hugely popular because it's delicious and a very reasonable price for $15,00," said Allmashy who has run Executive Deli for 16 tears. "If they want to add fries and a drink, the total comes to $20."
"We offer an even bigger menu than last year, and now we have beer battered onion rings, fried mozzarella sticks, mac 'n cheese bites and even funnel cakes!" he added. "People can call the concession ahead at (203) 531-5340 if they're coming at night to try the Hot Butter Lobster Roll. That way I can prepare in time because I saute each order in clarified butter and a few chives."
"Most ever person who orders takes a picture of it and then walks up and taps on window to say how divine it was," Allmashy said.
Allmashy, whose Executive Deli is just a few blocks away, said he is also anticipating running the concession stand out at Island Beach when the ferries begin to run. He said the benefit of being anchored by his deli is he doesn't run out of items.
He said boaters can even call in an order and pull up to the 15 minute waiting dock at the marina in Byram Park. The number at the concession is (203) 531-5340.
Menu staples include chicken tenders, grilled cheese, wraps, burgers, dogs, fries and BLTs.There's also a wide variety of ice cream bars and popsicles. The iced coffee is superb.