On Friday night, the Bendheim Gallery was again abuzz  over a new set of artwork and a mostly new set of artists eager for news. Whereas last Friday's "match-up" event was suspenseful for artists hoping to have been selected by Greenwich Avenue businesses for the upcoming May Art to the Ave event, the Feb. 28 the reception kicked off the 97th annual juried exhibition that runs through March 28, 2014.
The annual juried show is prestigious in the art community, but if there were any frayed nerves in the gallery, a string trio playing in the paneled gathering space along the main corridor soothed any stomach butterflies. An abundance of sushi, salmon, sandwiches and bite-sized dessert assortments, as well as wine was on offer, and local artists had a chance to mingle and meet others from nearby towns and New York City.
Silvia and Daniel Boyer, a married couple who traveled from New York City for the reception, both had artwork selected for the juried exhibition.
At least two artists were also at the previous week's Art to the Ave match-up event.
Max Wiesen whose "Wilton River" was selected for the juried exhibition was tickled to have been selected twice in a week.
Wiesen, a successful Greenwich real estate agent known for writing enticing copy for his listings, brimmed equally with enthusiasm for painting and his newfound star in the firmament of the art world.
André Lanoux, another central Greenwich denizen, was equally delighted that his painting  entitled "Embrace" was picked for the juried exhibition after having also had his work selected for Art to the Ave.
"The selection is so contemporary and modern that you can tell it was guest curated by someone from MOMA," said Lanoux.
Indeed, this year's Juror is Cara Manes, Assistant Curator and Collection Specialist in the Department of Painting and Sculpture at The Museum of Modern Art. Cara oversees all ongoing displays in the collection galleries. She also works extensively on museum exhibitions and special installations.
Anna Agoston, a contemporary artist whose medium is photography made the trip from her home in Brooklyn for the reception. Agoston described her piece, Untitled #24, as one in her series of 93 black and white macrophotographs, all elements found in nature. The subject of her photo, untitled #24, which was selected for the juried exhibition was a ginko leaf.
Agoston had a chance to chat with Suzanne Gold, Old Greenwich School art teacher, whose "Girl in the City Collage" was also selected for the exhibition.
Joseph Dermody had not one, but two pieces of art selected for the juried show including the acrylic painting above and the wooden sculpture below.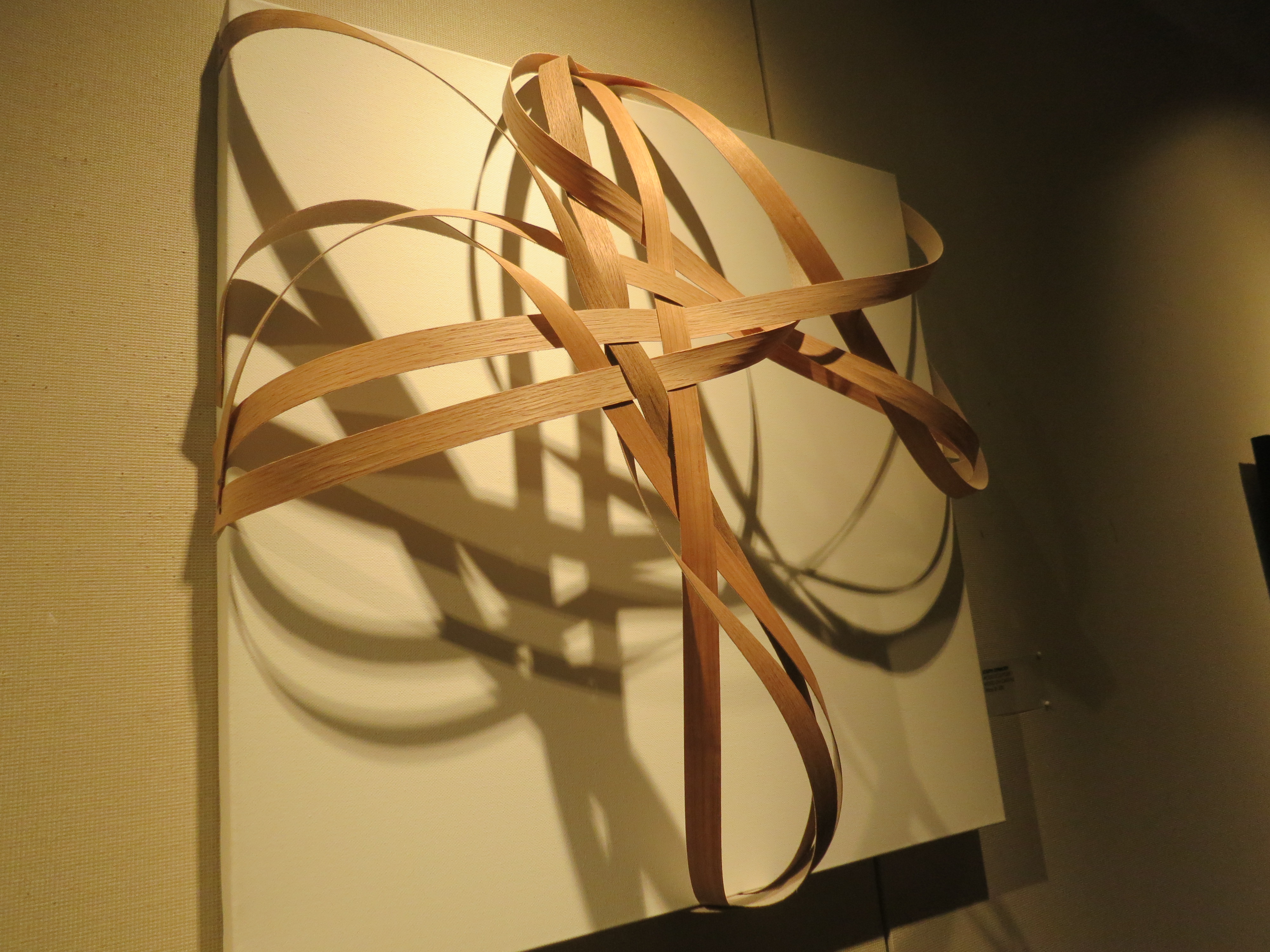 Karen Schlansky, whose pastel "Freedom" was selected from hundreds of entries for the 2014 juried exhibition is known for her animal paintings.
Local sculptor, Donald Landsman's "Horse" Sticks won the Stone Studio Award, announced at Friday's reception.
Greenwich Art Society 97th Annual Juried Exhibition Awards:
Best in Show, Francis K Brooks Award: Katie Samuelson "Feel the Light" Oil
Dagny Hultgreen Award for Oil/Acrylic: Don Perley "Mirage" Oil
Irene Buynoski Award for Free-Hand Drawing: Maria Nihoul "Brown Parasol" Pencil
Greenwich Art Society Award: Amy Schott "Siler Springs" Mixed Media
Marie Mathews Beran Award: Barbara O'Shea "Three Voices" Photography
Charles J. Beran Award: Jamie Fessenden "Dock Crane" Mixed Media
Randolph Chitwood Award: Duvian Montoya "The Park" Oil on Board
Stone Studio Award: Donald Landsman "Horse" Sticks
Jerry's Artarama Award/Gift Card: Shaw Stuart "Drawing #46 Pencil, Paper Thread
A.I. Friedman Award/Gift Card: Birgitta Hockstader "Fragment of Fresco" Mixed Media
The Bendheim Gallery is open Mon – Fri 10:00am to 5:00pm, and Saturday and Sunday from 12:00 Noon to 4:00pm. Admission is Free.
---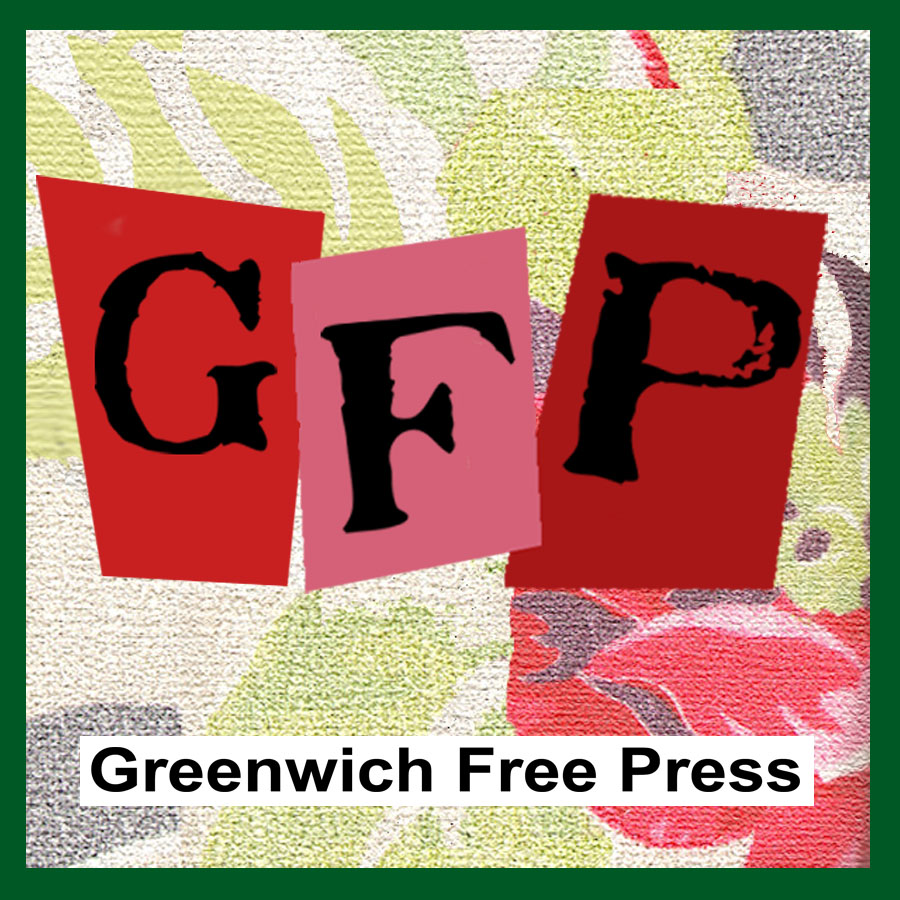 Email news tips to Greenwich Free Press  editor [email protected]
Like Greenwich Free Press on Facebook.