By Leslie Yager, Part 2 of a two-part series
On a recent August afternoon, Chris Frattaroli and Sam Knapp met at Tiger Lily's to discuss a budget for a potential collaboration. The duo, contractor and designer respectively, were neighbors growing up just outside Belle Haven.
Back in the day, they rode Big Wheels down the driveway and went to Greenwich Public Schools together. Fast forward to summer 2014 and Knapp, who is the face of Tiger Lily's where she works with her parents restoring, reupholstering and designing interiors enjoys collaborating with Frattaroli, who runs CNN Construction LLC and Frattaroli Development, LLC, building and remodeling homes and commercial properties.
Knapp said that casting directors connected with her after spotting her work on Houzz.com, where her interior design and decorating projects are arranged in tempting cluster of photos.
For the HGTV show, Knapp and Frattaroli worked together to redo an entire house in Black Rock. The project was a top to bottom renovation for an episode of House Hunters Renovation, which airs on HGTV Saturday, Aug. 23 at 10:00pm.
The project had a catch – a limited budget. "There's something to be said for having a budget,"Knapp said. "It forces you to see things through a different lens. What we spent on the entire house is about what some of my customers will spend on one room."
The show paired Frattaroli and Knapp with a pair of newlyweds who were first-time home buyers and on a limited budget.
"We had to get really creative," Frattaroli said, adding that the budget constraints means mixing and matching reclaimed and recycled furniture with purchases from IKEA. At the end of the day, a total of $30,000 was spent giving the classic Cape Cod style home of Erin and Eric a new look.
Design Dilemma
In another challenge to Frattaroli and Knapp, the Black Rock couple had different sensibilities when it comes to taste. "The husband liked Victorian details and she liked Contemporary style, cleaner lines and crisp white," Knapp said.
Frattaroli and Knapp met with the couple, but wanted to keep their ideas a surprise. "You have to trust the creativity of your designer," Knapp said.
"Newlyweds Eric and Erin have been living with roommates to save money for their first home. They're now ready to ditch their frat lifestyle and set out on their own, but agreeing on what house to buy may cause a hiccup in their marital bliss." – HGTV House Hunters Renovation website
Frattaroli, whose local business is a family endeavor with his father, brother and sister, said that the Black Rock couple wanted to renovate their kitchen. He explained that the house had a wall dividing the living room and the dining room. "We took down part of the wall to create an entry way, and open the floor plan," he said. "It was an easy demolition with a lot of impact."
"It was an opportunity to get as much of an open feeling as possible," Knapp said. "So someone could walk from kitchen to dining room with a platter. Or two people could walk through at the same time."
The couple wanted separate work stations in the kitchen, and Frattaroli and Knapp obliged. They created a kitchen island with a "drop box" where discards are pushed through. "We repurposed cabinets from Salvation Army," Knapp said and mixed them with IKEA cabinets. And we put white leather on the cabinet handles."
In a nod to the taste of Eric, Knapp and Frattaroli installed stained glass because he was partial to Victorian style. In the living room, existing chevron wood paneling was painted white and embraced as a theme, and maintaining some of the house's existing authentic charm.
"The couple had been living with his roommates," Knapp recalled. "They didn't even have furniture. We furnished the first floor with Tiger Lily's items including a coffee table, sofa and artwork."
Knapp and Frattaroli said the entire project spanned five weeks and, since time was of the essence, they used contractor subs to expedite the timetable.
Don't miss the episode on HGTV on Saturday, Aug 23, at 10:00pm.
Related Story:
Bringing Ideas to Life at Tiger Lily's in Greenwich
---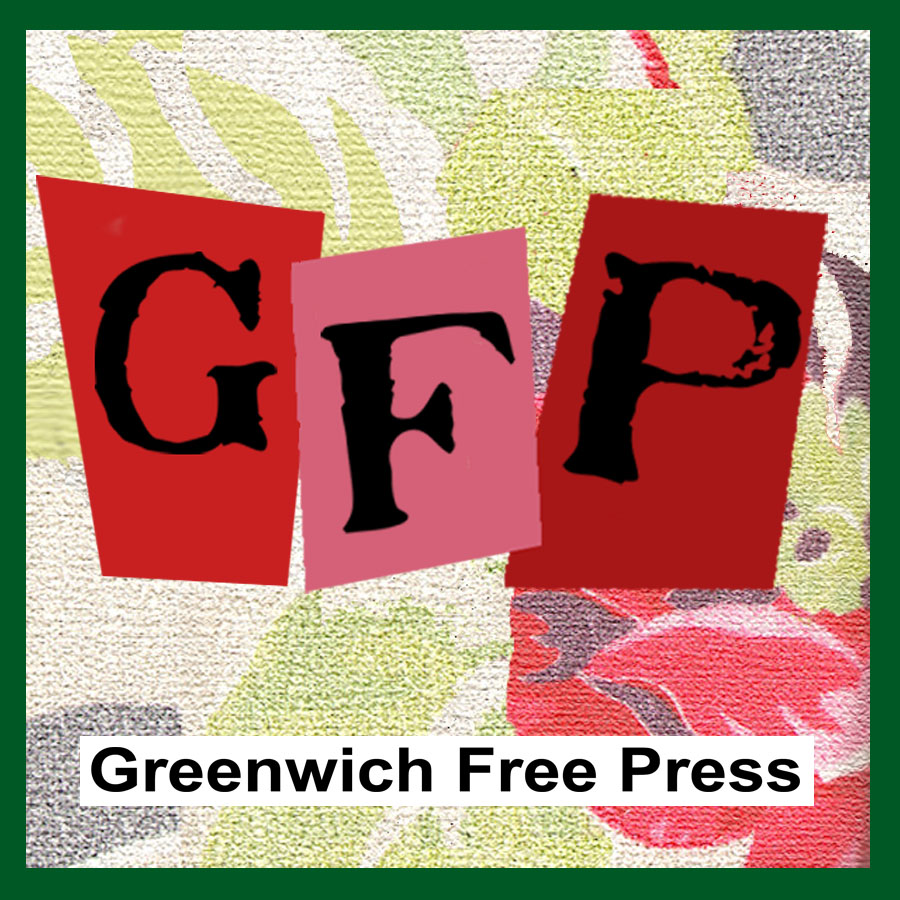 Email news tips to Greenwich Free Press editor [email protected]
Like us on Facebook
Twitter @GWCHFreePress
Subscribe to the daily Greenwich Free Press newsletter.