By Avery Imp and Victoria Liu, GHS Class of 2023
On Friday, May 19, the Greenwich High School Art Department presented "Spring Into Art," an exhibit showcasing more than 2000 pieces of original artwork created by GHS students.
The walls of the art wing were covered with student artwork, including photography, digital art, sculpture, ceramics, printmaking, and many paintings and drawings.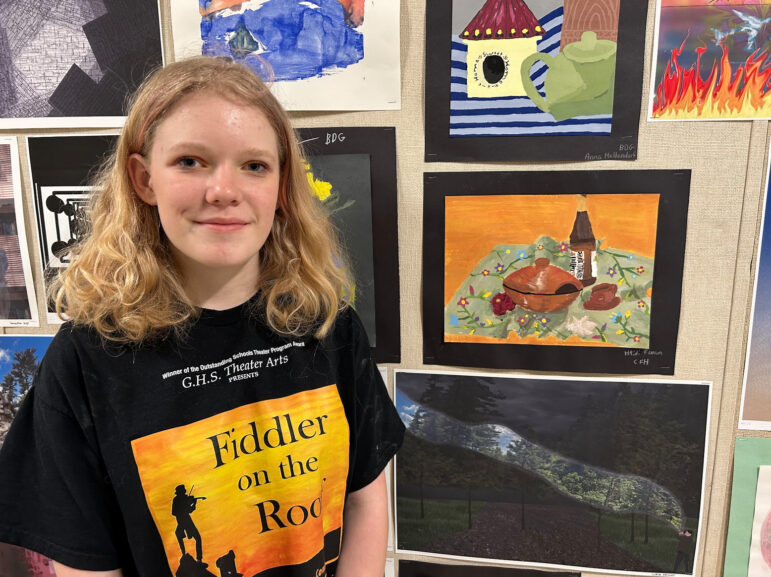 One highlight of the exhibit was a mural created by the students in the interdisciplinary humanities course, Honors Shapers of the World. More than 30 students collaborated to create the 88 x 112-inch mural, a synthesis of the texts and ideas that the students explored throughout the year.
In addition to viewing the artwork, visitors to the art wing participated in a variety of hands-on demonstrations and activities, including ceramics, collaborative art projects, face painting, mehndi, and nature printing.
The areas of study in the visual arts offered at GHS include: Art Experience, Art & Nature, Art Wear, Introduction to Drawing, Introduction to Painting, Design, Drawing & Painting, Advanced Drawing, Advanced Painting, Ceramics, Digital Arts, Photography, Printmaking, Sculpture, AP Art History, AP 2D, AP 3D, AP Photography and AP Digital Arts. Many students also participate in Honors Art or art-related clubs.
"Spring Into Art" is a testament to the talent, hard work, and passion of Greenwich High School's many young artists.