Mr. Dwight Wall, longtime Greenwich High School English teacher in Sheldon House, has made the big decision to retire.
This past year marked his 53rd year of teaching at Greenwich High School. Mr. Wall, an iconic figure, came to personally know thousands of students as they progressed through his classes.
At his retirement event, Mr. Wall received a standing ovation for his unfathomable amount of service and dedication to the school and profession.
Mr. Wall was part of the Greenwich High School family for so long that several parents of his current students actually had him as a teacher themselves.
He taught a wide variety of classes ranging from sophomore grade-level English to AP Literature, and was known by his students to be a quiet and serious man with a passion for prose.
For many years Mr. Wall was the dedicated faculty advisor to the Beak, the GHS student paper. His position will now be taken up by Ms. Sarah McConville.
The Beak sat down with him during his last few days at work for some Q & A:
And at what point did you realize you wanted to become an English teacher?
Well, it was in college. It was a combination of things. I always liked reading and writing. So, that put me into the content field. And then there was one speaker who came to school one day and he was talking about careers, and as he went down the list he had something to say about teaching. I don't remember exactly what he said but it made an impression on me. About how to combine my other interests, and that's what I did.
And where did you go to college to study that?
I went to Holy Cross for a bachelor's degree and then I went to Harvard Graduate school of education and had a combination of a master's degree and teaching preparation courses.
And how did you end up getting a job at Greenwich High School?
Well, the year, let's see… 1961. I had a friend who lived in Stamford and he invited me down for the weekend. One of his friends lived in Greenwich. So we all went over there to visit and his friend's sister was already a teacher in Greenwich. She was talking about the school system and so forth. I had been teaching for two years at that time at East Hartford High School. And I wanted to change the type of community and the type of school that I was in, just to get more experience so I applied to Greenwich; and never heard anything, which I found out later was par for the course.
I heard that when it was announced that you retiring you got a very long standing ovation.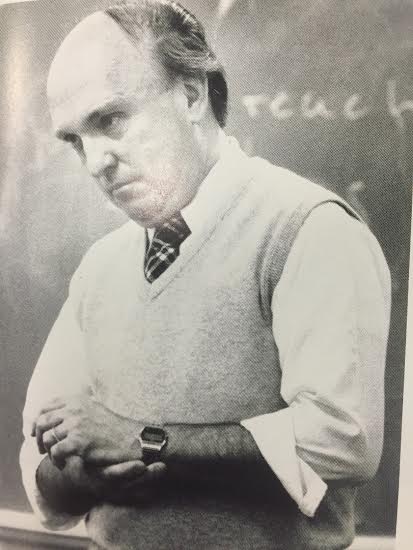 That was on Tuesday [May 10th.] Every year the teachers who are retiring have it, actually the board of education and teachers and administrators sponsor it. The whole education establishment is invited to give a farewell to the retiring teachers. And they present a certificate and membership in professional organizations and things like that. So they call out one person at a time one the stage and I think there were about 35, 38 people. And they did it by school, alphabetically by school and then alphabetically within school. So you know where the "W's" are, (both laughs) way at the end. So my name was the last one. I don't know whether they were standing because they were sitting there for almost an hour
No they were standing up for you Mr. Wall,
[He laughs]
You don't have to be humble about it. They were standing up because of you. I heard that a standing ovation had never happened before either.
That's- apparently not. No. Well I didn't know it was happening until I reached the end of the reception line on the stage. I was over there and I came across and then when I got this far it was the superintendent who was giving me something and he said, "You're getting a standing ovation. If you turn around and look at the people they want to wave at you."
Like a celebrity!
Yeah, because I was just focusing on the people who I was shaking hands with so my back was to the audience most of the time. So when I turned around and saw that I was quite surprised.
Why were you surprised?
Well probably because it hadn't happened before and that it went on for such a long time, and there were other people; getting the same recognition that I had.
We wish Mr. Wall a well-deserving happy and healthy retirement. 
---