The next P&Z meeting is set for Thursday, Jan 20 at 4:00pm (rather than the typical Tuesday night), and the agenda includes an application from CEMT Inc to renovate an existing office building at 99 River Road, located directly on Cos Cob Harbor.
The applicant seeks to modify the roofline, construct decks, porches, entry terrace, steps, and an ADA accessible walkway, and to reconfigure the parking lot to add landscaping islands, resulting in a reduction of gross floor area by 952 square feet.
The design modifications have already been reviewed and approved by the Architectural Review Committee.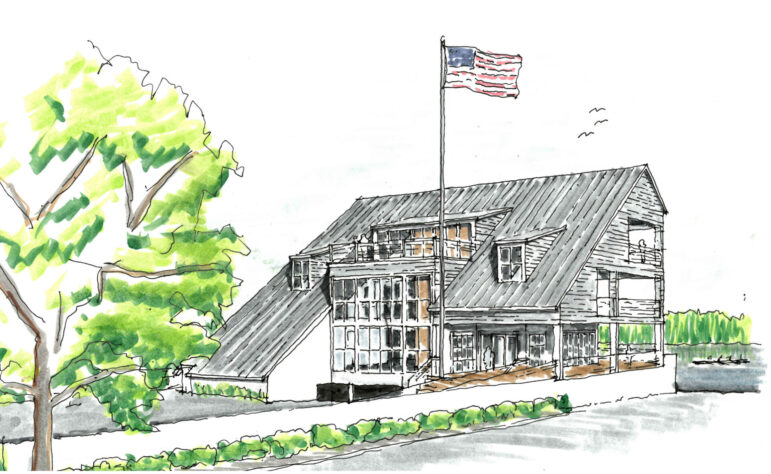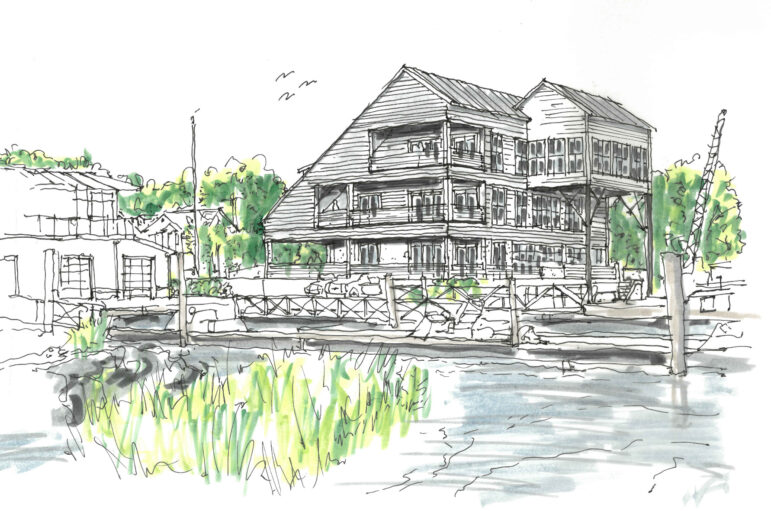 The building is non conforming with current regulations:
It has .601 Floor Area Ratio, while only .5 FAR is allowed.
Its height is 57′ 8-¼". Proposed is 50 ft 9 ¼-inch, whereas, per current regs, only 30 ft is allowed.
There are no setbacks on either side of the building, while 10 ft are otherwise required.
The rear setback to the water is just 5 feet from the mean high water line, while 30 feet are required. Aleksandra Moch, town Environmental Analyst, suggested the existing narrow tidal wetland buffer be restored, and a variety of native shrubs and/or herbaceous ground cover be added to the new landscape plan. She said replacing the existing gravel surface with new plantings would offer shade and habitat to the mostly paved water's edge.
With the parking in front of the building, there is a 91.5 ft setback, while only 15 ft are required.
While regulations allow just two stories, the building has three.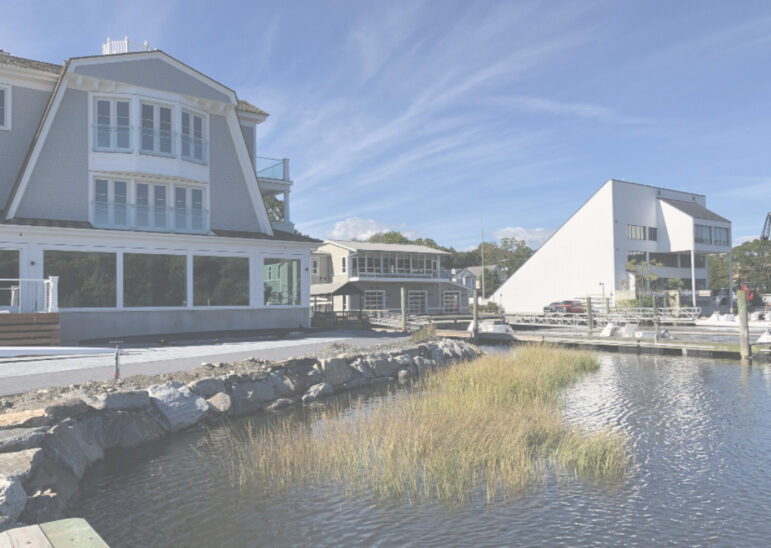 The application was previously reviewed by the commission back in September. Feedback included suggestion to add buffer plantings and enhance public access and enjoyment of the water.
While public access to the waterfront is a goal of the Planning & Zoning Commission, according to the staff report, currently there is no proposal for public access.
The Conservation Dept suggested the applicant restore the tidal buffer, utilize pervious pavement, install EV chargers for electric vehicles, and utilize landscape islands as rain gardens.
Ms Moch commented that the proposed renovations decrease impervious surface on the parking area which brings a net benefit.
"Four new planted islands will not only break the paved area allowing for infiltration, but if planted with native trees the shade will moderate the heat island effect of the parking," Moch wrote.
The parking plan is for 10 outdoor spaces plus one ADA space, in addition to 14 indoor spaces.
The parking area has also been revised to provide additional landscaping and green space.
A coastal site plan and special permit are requested. The building is located in the WB, Coastal and Flood Hazard overlay zones.