Celine A. Crothers (nee McHugh) of Greenwich passed away peacefully at home surrounded by her loving family on January 23, 2022. Celine was a lifelong Greenwich resident born on September 15, 1928, to Owen and Bridget McHugh (nee Wade). She was a talented soprano who sang in church choirs from grammar school and beyond. She was president of the Opera Club at Greenwich High School and her children loved to hear her beautiful voice at home and church.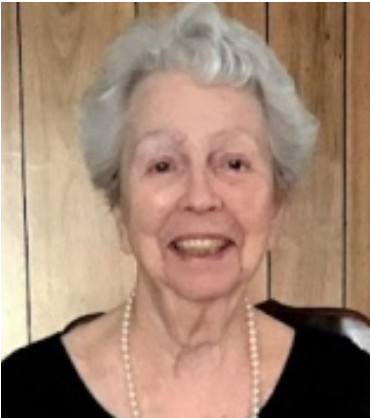 Celine was the beloved wife of the late Edward J. Crothers. They wrote to each other often while Edward attended college and married in 1950. She loved everything the Greenwich area had to offer and could be found shepherding her large family to Bruce Park fireworks on July 4th, taking the ferry to Island Beach, and riding the Ferris wheel at Rye Playland. She loved an occasional trip to New York City to see the symphony and taking her grandchildren to the circus and Broadway plays. During retirement, Celine and Edward enjoyed many trips around the world, especially with the Glenville Seniors. She was an active member of the St. Paul Women's Guild and treasured her time with her Guild friends. Her family and friends would all agree that Celine would light up a room with her smile and her laughter.

She was predeceased by her daughter, Jean Crothers Welles (Robert) and her brother, Edward McHugh (Marjorie). She leaves behind her beloved sister, Jean Duffy (Hugh), and sister in law Marjorie McHugh, her loving children, Edward Crothers (Laura), Nancy Ryan (James), William Crothers (Marva), Carol Keemon (Thomas), and Kevin Crothers (Wendy), her cherished grandchildren Sarah, Nicole, Kevin, T.J. (Lori) and Matthew and great-grandchild Mia. She also leaves her many nieces, nephews, and their families. The family is so very grateful for the care she was given by Sarah, Marie, and Heather (Homecare Connectors) and Lyndell and Lisa (Constellation Hospice), Lisa Kurian, MD, and Dickerman Hollister, MD.

A private service will be held on January 31, 2022, with a Mass of Christian Burial at 11:00am at St. Paul Church. A memorial service for Celine will be held at a future date so that all who knew and loved her can gather to celebrate her life.
In lieu of flowers, donations may be made to Greenwich Hospital (giving.greenhosp.org), the Jean Welles Scholarship Fund at Springfield College (springfield.edu/giving-to-springfield-college), and The Glaucoma Foundation (glaucomafoundation.org). For more information or to place an online condolence; www.coxeandgraziano.com