Tuesday's Planning & Zoning meeting on Zoom was postponed to Wednesday as a result of Tropical Storm Isaias, which left commissioners and residents without power or internet.
On the agenda was a non-binding pre-application for "Foundation House," a non-profit center for learning that would focus on health, wellness, art and social justice.
Foundation House would be located at Old Mill Farm, better known as the former Mel Gibson Estate, a 75 acre property at 124 Old Mill Road.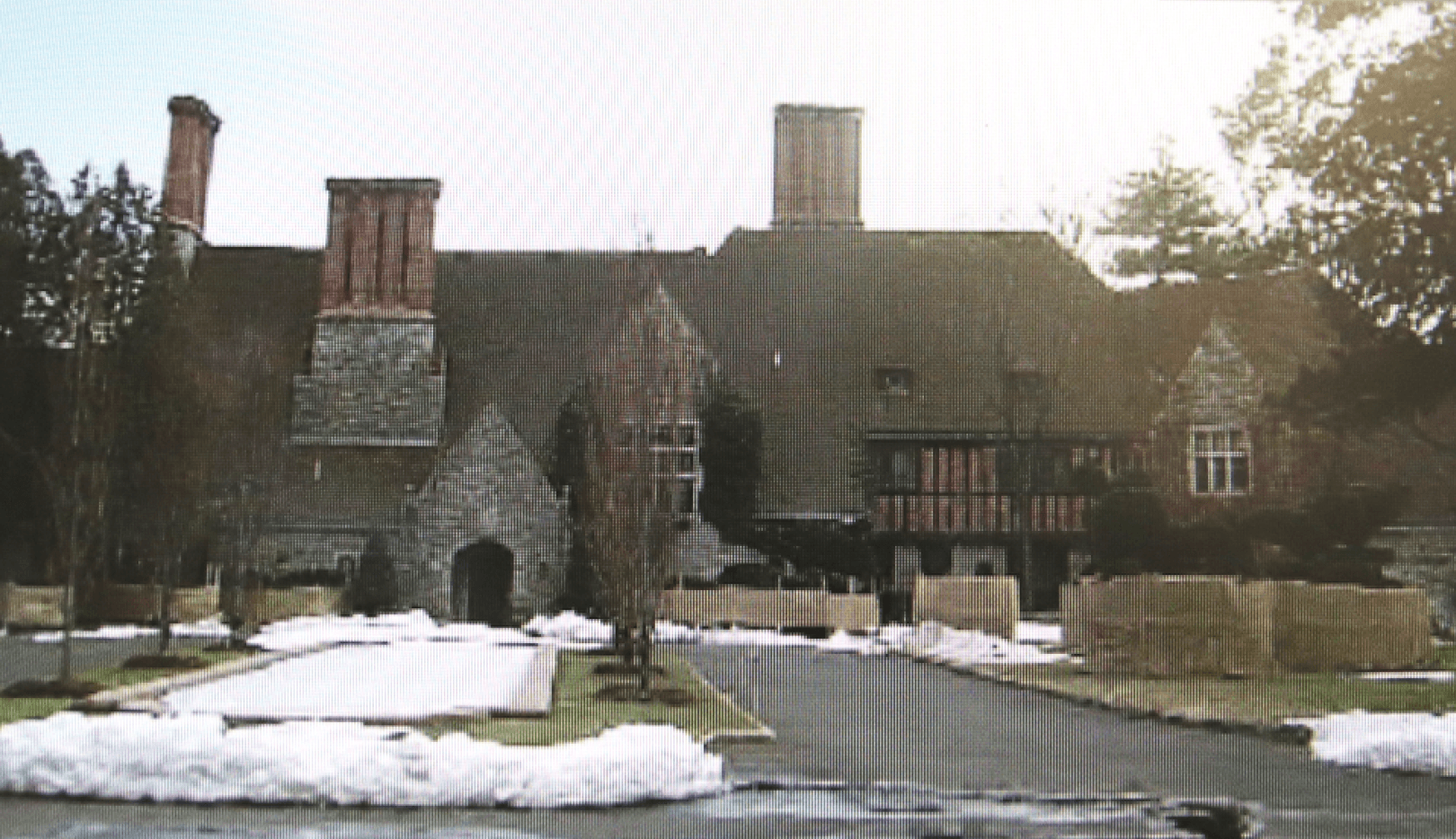 Back when Gibson owned the property, which he dubbed "Wayne Manor," he and his wife brought the mansion out of disrepair. Over the 15 years they lived there, they redid much of it, and added a theater and air conditioning.
On Dec 18, 2019 the property sold from Cosette Property LLC to 124 OM LLC for $13,250,000.
Prior to the sale, Cosette had caused a stir in back country with a proposal involving both a Historic Overlay and conservation easement.
Twenty-eight houses with condo type ownership were proposed for 17 acres of the property.
An August 2019 Wetlands meeting attended by 100 members of the Round Hill Association wearing "RHA" stickers was memorable as angry back country residents in the four-acre zone spoke out and RHA members were reprimanded for loud applause.
The new owner of the property, Mimi Sternlicht, a neighbor herself, is seeking to create the non-profit center for learning, which under zoning regulations would be considered an educational use.
Ms Sternlicht, who is a designer by trade, is described in pre-application materials as an advocate of conservation and an equine enthusiast, who has chosen to "rescue this special property from the hands of overzealous developers."
Sternlicht is an active board member of The Glass House, part of the National Historic Trust, working to preserve that architectural gem in New Canaan, and sits on the board of The Park Avenue Armory, advising on arts education. She is also a supporter of the Greenwich Riding Trails Association.
Under the proposal, the existing mansion and outbuildings would be retained and a new conference center would be constructed to provide space for large and small group meetings and conferences.
Horse trails on the property would be restored and be available for public use.
Attorney Heagney said the historic grist mill on the easterly side of the property would be improved and kept in good condition. "We will work with the Historical Society and the Historic District Commission," he said.
According to a narrative in the pre-applicaiton documents, the owner would gift one parcel of about 15 acres to Greenwich Land Trust.
The land is currently in four separate lots. In order to install a septic system and avoid taking down mature trees, the applicant would seek a lot line revision.
Parking for the conference center would be on the south portion of the property in grass fields.
Foundation House, with the slogan, 'give, grow, gather,' would host gatherings on subjects such as historic preservation, arm-to-table nutrition, climate change, art and design, education, social justice, personal growth, land conservation, social entrepreneurship and community building.
Foundation House, the original estate mansion, would be restored and preserved, and have a maximum capacity for "flowing gatherings" of 200 guests, 100 for seated lectures, or 30 guests seated at round tables.
To offset the non-profit's expenses, the property would rent buildings including Foundation House and a new structure, "The Glass Barn," which would be built from local and salvaged materials and accommodate up to 300 guests.
"The Log Cabin," tucked in the woods, could hold 15 guests for yoga or spiritual wellness retreats.
"The Stone Stables," formerly a working horse barn, would have its exterior restored and be used as a smaller lecture space.
Attorney Tom Heagney described Foundation House as a public entity similar to Greenwich Audubon.
"On the impact to the neighborhood, the driving force is the owner lives across the street," Heagney said. "We've met with the board of the Round Hill Association who have been very receptive to the proposal."
Indeed, Nancy Duffy, representing the RHA, said her board was well aware of the application and was strongly in favor of it.
The commission also responded positively.
"We endorse the intent, but want to build in protections," said P&Z chair Margarita Alban. "Given what the applicant aims to do, it should be easy."
Alban said the commission was interested in a land merger of the separate lots.
She said the commission wanted the applicant to return with a more precise definition of an educational and cultural facility, and information on how fundraising events would be managed and scheduled, with an eye to traffic impact on the neighborhood.
"It would be helpful if you spelled out how many events a year, how many people might be there," said P&Z Director Katie DeLuca. "Nail that down. That would be helpful."
"How the events are held and how fundraisers are conducted is certainly an issue we need and want to address," attorney Heagney said, adding that his client intended to hire a traffic engineer.
Ms Alban said when the application comes back before P&Z, the commission would want the land to be protected in perpetuity.
"We don't want the applicant to sell this land and have it turn into a high intensity educational use that is allowed under 6-94," Alban said.
Heagney noted an advantage of the site is that the activity would take place in the center of the 75 acre property, and be accessed via long driveways.
The applicant will return to P&Z in September.
See also:
SOLD: Former Mel Gibson Mansion in Back Country Greenwich
WETLANDS WATCH: 28 Proposed Residences at Former MIel Gibson Estate Scrutinized