What you need to know about Memorial Day holiday weekend in Greenwich.
Holly Hill Resource Recovery Facility schedule
• Closed Monday, May 29 for Memorial Day holiday. On Saturday, May 27 Holly Hill will be closing promptly at 12:00 noon. Residents are reminded to arrive at Holly Hill early due to anticipated congestion in town from the Greenwich Town Party.
Parks & Recreation
• Saturday, May 27, 2023. The Department of Parks & Recreation will begin the summer beach season with the official opening of Greenwich Point and Byram Beach.
• Friday, May 26, 2023.The pool area at Byram Park opens for the season.
Saturday, May 27
Greenwich Farmers Market in Horseneck Lot by exit 3. 9:30am to 1:00pm. Check here for list of vendors for 2023! Parking is only for farmers market customers, not Greenwich Town Party.
Greenwich Town Party
• All day, Saturday. As of Wednesday, Community Tickets are sold out, but there are some Neighbor and Sponsor tickets available. The organizers do expect tickets to sell out.
Cos Cob Ceremony
• 10:30am. The ceremony will be held by the by the Cos Cob VFW Post 10112 memorial on Strickland Rd by the Mianus River Boat & Yacht Club and across from the Greenwich Historical Society. This is a brief ceremony to honor veterans lost their lives in service to our country.
Sunday, May 28
Byram Veterans Memorial Parade
• 1:00pm The annual parade and ceremony starts at the veterans clubhouse on Delavan Ave and Veterans Way. All veterans, civic organizations, schools and groups are invited to march. there will be refreshments at the Veterans Club after the parade.
Glenville Volunteer Fire Company
• 5:00pm the annual Glenville parade runs from Walker Court to the Glenville fire house. The parade, organized by the Glenville Fire Dept and 9th District Veterans. The parade has been held since 1947.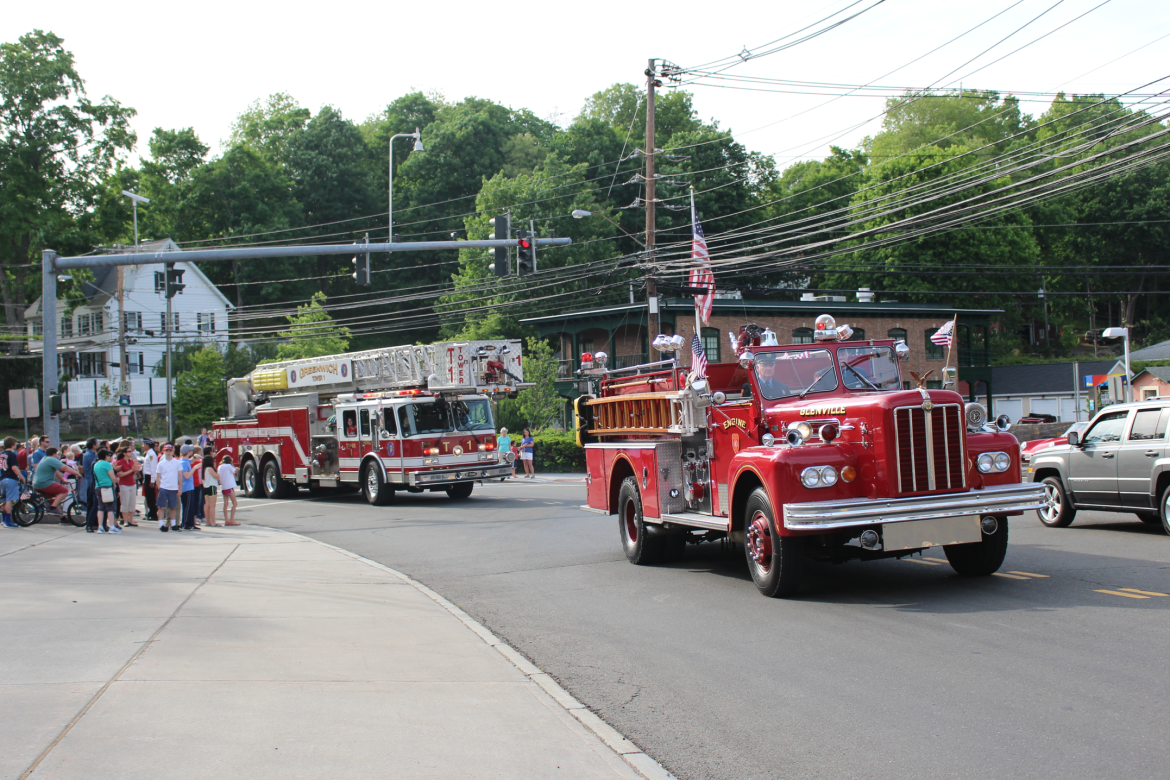 Monday, May 29
• 8:15am. Jim Fixx Memorial Day Race. (Click here to register)
Race Day Check In begins at 7:00am at the Greenwich Senior Center, 299 Greenwich AvenueThe 5K race starts on Greenwich Ave at the intersection of East Elm Street. The course runs through central Greenwich, through Bruce Park, and finishes at the track at Havemeyer Field.
• 9:00am. The Jim Fixx kid's run starts and finishes on the track following the 5K race.
• 8:00am American Legion Post 29 annual memorial service which includes a wreath laying ceremony will take place by the water at Indian Harbor Yacht Club.
This year the event will recognize the 50th Anniversary of the end of America's participation in the war in Vietnam and speakers will include Vietnam War veteran Ed Vick, First Selectman Fred Camillo, and Betsy McCaughey. The ceremony will include a tribute to Greenwich veterans who made the ultimate sacrifice in that conflict, the Greenwich Police Dept Honor Guard, echo taps, and more. According to Peter LeBeau, Post 29 Commander, "This dock-side ceremony has for years been one of the key highlights of Greenwich's Memorial Day weekend." Light breakfast refreshments will be served.
• 10:00am. Byram Veterans Association ceremony
The service honors 13 alumni from Byram School who lost their lives in service to our country. The event is held in the memorial grove at Eugene Morlot Park, accessed by Sue Merz Way, near the Hamill ice rink.
• 10:00am Sound Beach Volunteer Fire Dept Memorial Day Parade. It runs from Sound Beach Avenue to Binney Park in Old Greenwich.
Memorial Day Weekend Message from CT State Police:
As with all long, holiday weekends, Connecticut State Police are preparing for an increased number of vehicles on local and highway roads. State Troopers will be on duty patrolling state roads and highways throughout the three-day weekend.
Troopers from each of the agency's 11 troops will be conducting extra roving DUI patrols from the evening of May 25 through the evening of May 29.
Troopers ask operators to utilize lawful driving skills and plan for traffic delays as more drivers venture out this weekend.
Some safety tips – and laws – that Troopers ask you to remember:
BUCKLE UP, OBEY SPEED LIMITS, DON'T FOLLOW TOO CLOSE, REMOVE DISTRACTIONS WHILE DRIVING, STAY OFF THE CELLPHONE, and NEVER DRINK AND DRIVE.
Remember that the "Move Over" law requires motorists approaching any stationary vehicle to immediately slow to a speed below the posted speed limit and, if traveling in the lane adjacent to a stationary vehicle, to move over one lane, unless it is unreasonable or unsafe to do so. This includes other citizen vehicles and emergency vehicles such as ambulances, fire vehicles, law enforcement vehicles, highway maintenance vehicles or licensed wreckers. Please pay attention to these vehicles and those who may be working in the roadway.
During Memorial Day Weekend 2023, motorists should be aware that Connecticut State Troopers will employ all methods of enforcement to increase highway safety, including laser units for speed enforcement, as well as marked & unmarked, non-traditional police vehicles to proactively patrol our roadways.
2022 Memorial Day Weekend Enforcement Stats from CT State Police:
Calls for service: 6,448
Motorist assists: 547
Speeding: 615
Seatbelt violations: 145
Hazardous moving violations 451 (includes unsafe lane change, following too closely, move over, etc)
DUI arrests: 37
Accidents: 359
Accidents with reported injuries: 35
Accidents with serious injuries: 1
Fatalities: 10